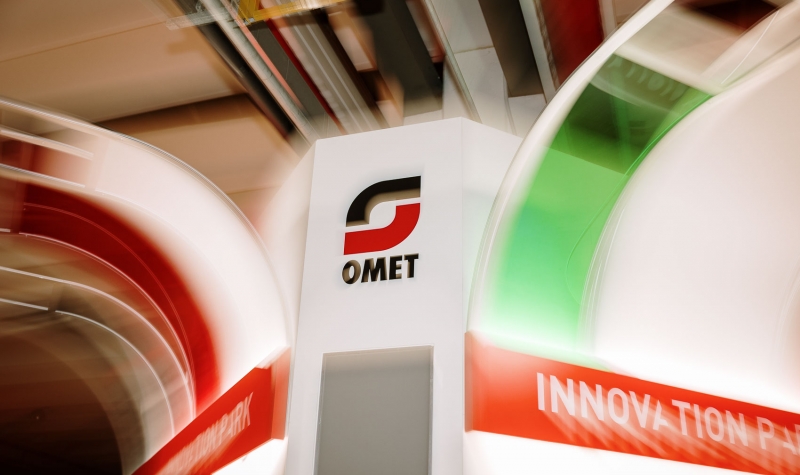 When Digital meets Flexo: the future of hybrid printing at OMET Innovation Park
Technology & Innovation
Tuesday February 14th, 2023
On the 22nd and 23rd of February 2023, OMET inaugurates the season of events at the new Innovation Park, permanent showroom in Molteno (LC), with a two-day open house dedicated to hybrid flexo+digital printing. A digital heart perfectly integrated in a conventional machine body: the protagonist of the event will be the OMET XJET, which will show the advantages which have attracted the attentions and requests of the major market players.
The OMET Innovation Park hosts the first open house of a long series planned for the year 2023: When Digital Meets Flexo is a two-day event dedicated to flexo+digital printing, a topical trend in the label printing market due to the enormous potential and advantages this solution can offer for future-proof business developments. Special guests at the event will be Francisco Eichhorn of DURST GROUP, Roberto Maiocchi of BST Italia and Paolo Grasso of ACTEGA-ECOLEAF, who will display relevant solutions applicable to hybrid printing.
The OMET XJET is the complete hybrid printing solution capable of delivering outstanding results through the combination of OMET's renowned flexographic quality and Durst's digital inkjet printing technology.
The Tau RSCi is a high-performance inkjet printing unit capable of achieving the best digital print quality, covering up to 95% of the Pantone color space. This model can be configured in 330 mm, 420 mm or 510 mm width, up to 8 colors CMYK+W+OVG, with a standard speed of 80 m/min at a native resolution of 1200×1200 dpi, with the option to increase it to 100 m/min.
Thanks to the perfect integration into the renowned X6 platform, web tension and print register is handled easily through OMET automation that always ensures the best qualitative performance on all materials, working as a single machine, thus minimizing set up time and waste.
OMET XJET powered by Durst is the only machine featuring a full in-line multi-process concept, which is able to combine all the advantages of the two printing technologies in a single hybrid platform to enable the production of high value-added labels in a single process. Moreover, thanks to the digital module, jobs that would not normally be cost-effective when printed on a high-productivity machine become convenient with the assurance of the highest quality. With OMET XJET you are able to expand the range of opportunities, adapting the production to changing market trends such as customization, just-in-time deliveries, and end-product enhancement.
Click here to download the program