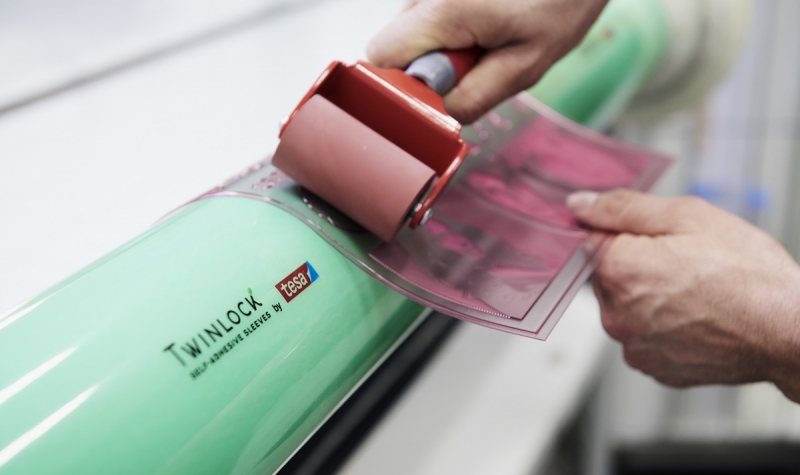 Creativity, efficiency and sustainability: tesa® Twinlock
Technology & Innovation
Monday July 3rd, 2023
The collaboration between OMET and tesa goes beyond the simple supply chain partnership: a technical and marketing collaboration that has lasted for many years and has brought important results. In recent months, the new tesa® Twinlock, self-adhesive, compressible and reusable sleeve from tesa for direct mounting of flexographic plates, have been tested on OMET machines at the Innovation Park. We talked about it with Federico Noli, Marketing & Communication Manager of tesa.
"At tesa, we firmly believe that collaboration and partnership are the true drivers of progress in any industry – explains Federico Noli, Marketing & Communication Manager Industrial Growth Markets West-South Europe at tesa. – This is why, in the flexo industry, we strive to stand alongside the world's leading press manufacturers. This makes it possible to create and develop unprecedented synergies: in fact, through collaboration it is possible to find adhesive solutions tailored to a specific printing press, making life easier for the printer while improving quality considerably".
OMET and tesa have been cooperating for several years now, a collaboration, which goes far beyond the classic relationship between supplier and customer, and embraces many areas of interest, including joint activities in communication, marketing and testing of new technologies. It is precisely because of this strong relationship that tesa decided to sponsor and support the Innovation Park project, the demo center recently opened by Omet a short walk from the company's headquarters.
"From a more technical point of view, our two companies are focusing on bringing extremely compatible solutions to the market in the combination printing press-adhesive plate mounting solution – Federico Noli continues – so that we can provide the end customer a solution that is immediately synonymous of effectiveness and high quality, while respecting the high standards of both companies. Today, sustainability and waste reduction are central to the corporate strategy of most companies, and we are not an exception. For this reason, in recent months we have been focusing on the efficient implementation of the tesa® Twinlock solution on OMET printing presses".
tesa® Twinlock is the self-adhesive, compressible and reusable sleeve from tesa for direct mounting of flexographic plates. A layer of polyurethane foam and a special coating, which gives the sleeve adhesive properties, are applied to a base sleeve, allowing plates to be mounted directly onto it; once the job is finished and the plate removed, simply follow standard handling procedures and use a special activator provided by tesa to restore the sleeve's adhesive properties once again. If all activation and handling procedures are performed correctly and carefully, tesa® Twinlock can be used over and over again for more than ten years.

The benefits of tesa® Twinlock are many in terms of sustainability, quality and efficiency. This self-adhesive sleeve makes it possible to completely remove tape consumption during plate mounting processes. Using the width and repeat of the OMET XFlex X7 press (set of 8 colors, repeat 457.2 mm, width 680 mm, single use of tape), through careful calculation, we can estimate that tesa® Twinlock enables the printers to save about 450kg of adhesive tape for every 400 printing jobs. Not only. Using a self-adhesive sleeve reduces the frequency of tape supply during the year, contributing to the reduction of CO2 emitted into the atmosphere by trucks.
Removing the use of adhesive tapes in the mounting department not only contributes to greater sustainability, but also helps to achieve more efficient, easier and faster processes and reduce complexities in mounting.
Lastly, what for everyone is perhaps the most important aspect: quality. The 1.5 mm layer of polyurethane (PU) foam gives the sleeve a consistent compressibility, helping to considerably reduce the annoying phenomenon of bouncing and unbalancing during runs at higher speeds. In addition, in order to deliver a perfect, long-lasting product, the thickness of each sleeve is precisely measured with special laser technology to ensure that it is exactly what is required with regard to current usage standards.
"The partnership between tesa and OMET – concludes Noli – marks a new era of adhesive solutions and printing technology in which creativity, efficiency and sustainability converge. By combining tesa's more than 125 years of experience in adhesive solutions with OMET's innovation in printing press manufacturing, it will be possible to shape the future of the industry and create endless possibilities for flexo worldwide".