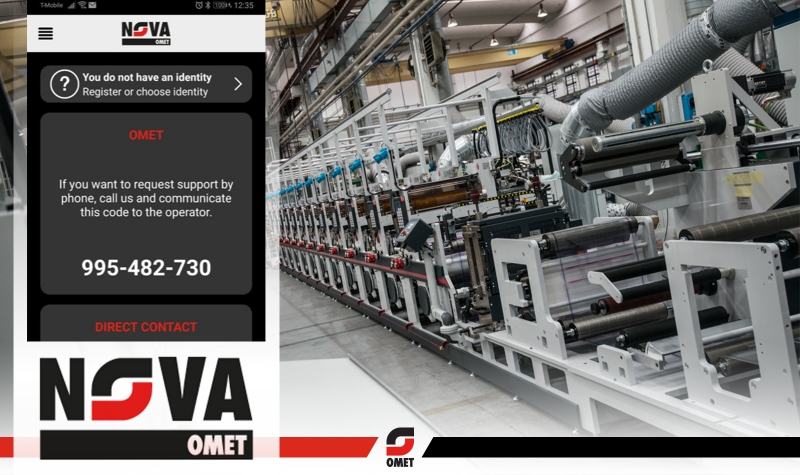 OMET presents NOVA: a revolutionary App for remote service
Technology & Innovation
Wednesday December 23rd, 2020
New OMET Virtual Access: the new multi-language OMET App is ready to upset remote service and remote installations. It was developed with foresight just before the pandemic and tested with excellent results during the lockdowns of this difficult 2020. Able of instant translation in 64 languages, both voice and chat, the App allows our service to operate with maximum effectiveness and timeliness.
Strongly desired by the Sales Director Marco Calcagni and by the Technical Assistance Manager Antonio Muraca, NOVA represents a new frontier for the customer assistance. It is managed directly from OMET offices, allowing the OMET technicians to work in the customer's virtual reality and to guide the local staff over the needed operations with the utmost precision for solving the problem. "What distinguishes this App from the others is the instant translation and the ease of customer interaction.
Thanks to NOVA, over the recent months we have been able to solve customers' requests in all continents without the physical presence of our technicians. We managed to carry out maintenance and complete replacement of machine parts, virtually guiding the staff on site" explains Antonio Muraca, OMET Assistance Manager. "We already had the opportunity to successfully test the App during the lockdown and we think NOVA will be the protagonist in the future also for remote installations carried out by local collaborators".
To use the new App, a first download registration must be made, to allow OMET to immediately recognize who is calling and identify the customer and its machines. Then, our technician will be able to operate and guide local staff with the maximum safety, thanks to various tools able of recognizing the context, including potential dangers (eg hot parts) and machine operating mechanisms.
The NOVA app is already available from online stores (both Android and iOS), by entering "Omet Nova" as a search. Starting from 2021 it will be included in sales contracts. It is suitable for any OMET machine. To use it, all you need is a smartphone or a tablet.
"The NOVA App is already active globally and represents a revolution for the world of assistance. With the pandemic underway, it becomes the key to manage any type of remote technical intervention, from installation to fault repair, without any delay or loss of effectiveness. However, OMET does not consider it a simple goal, but the first step towards an even more ambitious goal: 24h assistance" comments Marco Calcagni.