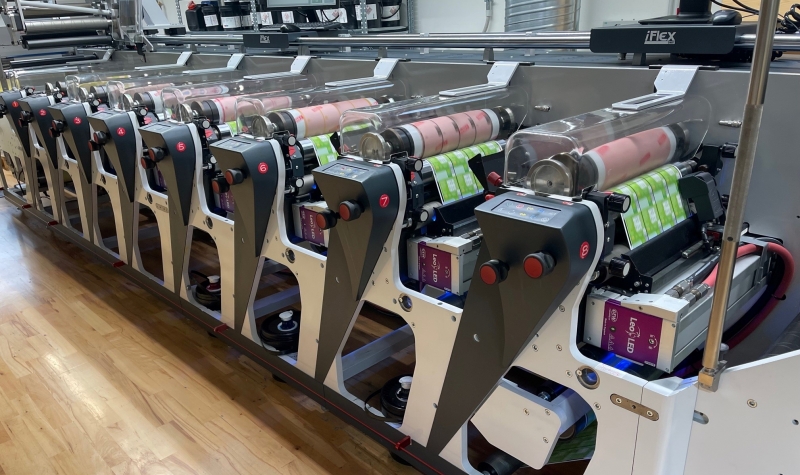 The Drive to UV LED
Technology & Innovation
Wednesday June 7th, 2023
During the last years, the market has shown a growing interest towards the use of UV LED lamps and inks. Since the beginning, OMET has collaborated with its technological partners for testing these new products on OMET printing machines, and to achieve high quality and efficiency goals. Today we can say that results have been really satisfying. The number of printers requiring UV LED systems on OMET machines is growing rapidly. As OMET, we asked to our partner GEW to explain to our customers all the advantages of this new technology.
As a printer, are you in search of a more efficient and cost-effective solution for UV curing? UV LED technology is the way forward and GEW, leader in the field, presents game-changing solutions for a broad range of label and web applications. With its practical benefits and substantial energy savings, UV LED curing is revolutionising the printing landscape.
Efficiency is a crucial factor in the highly competitive world of printing. Traditional UV curing systems rely on mercury lamps that consume significant amounts of energy and require frequent bulb replacements. UV LED systems such as GEW's air-cooled AeroLED, and water-cooled LeoLED, offer unmatched efficiency and sustainability. For example, by switching to GEW's AeroLED with a maximum electrical power of 53W/cm, customers can achieve energy savings of up to 70% compared to GEW's industry-standard 140W/cm E2C mercury arc UV system. The impact on your bottom line is substantial. For instance, a typical 16″ width, 8-colour machine running two shifts could save between 30,000 and 50,000 Euros per year, based on electricity prices ranging from 20 to 25 cents per kilowatt-hour. To better understand the energy and cost savings offered by switching to UV LED, you can use the ROI Calculator on GEW's website here.
One of the key advantages of UV LED is its extended lifespan. Unlike conventional UV lamps that deteriorate over time and need frequent replacements every 1,000 to 2,000 hours, GEW's UV LED modules have a lifespan in excess of 40,000 hours. This results in significant cost savings and reduced downtime. With UV LED, you can eliminate the inconvenience and expense of regularly replacing lamps, ensuring uninterrupted productivity.
In addition to its longevity, UV LED technology eliminates the need for warm-up and cool-down periods. Unlike traditional UV curing systems that require time to reach the optimum operating temperature, UV LED offers instant on-off capability. This leads to faster job turnaround and increased productivity. Meeting tight deadlines and satisfying customer demands becomes easier and more efficient.
UV LED also offers enhanced control and precision. Unlike conventional UV lamps that emit a broad spectrum of light, UV LED emits a specific wavelength of UV light. GEW's LED lamps are produced as standard at 395nm, but options at 365nm, 385nm, and 405nm are also available for AeroLED and LeoLED systems. This allows for precise targeting and controlled curing, ensuring exceptional print quality and durability on various substrates.
The environmental benefits of UV LED technology are significant. By transitioning to UV LED, printers contribute to a greener future for the printing industry. UV LED lamps do not contain mercury, making them safer for both the machine operator, and the environment. In terms of GEW's LED products, AeroLED's air-cooled design gives printers unparalleled control over the waste heat generated by the curing process. In hot factory environments, excess heat can be ducted out of the building, while in colder settings, it can be ducted back inside to reduce heating loads. This adaptable feature allows for optimal energy efficiency depending on the time of year or specific requirements. To put this into perspective, an 8-lamp 16″ LED system can generate enough waste heat to heat two four-bedroom homes every day. Harnessing this energy-conscious opportunity, AeroLED brings a significant cost saving to your operations.
To experience the benefits of UV LED technology first-hand, GEW invites you to visit their stand at the Labelexpo Europe exhibition in September, where they will be displaying AeroLED and LeoLED, as well as their range of conventional mercury arc systems. Join GEW at booth 4B53 in Hall 4, to begin the transition to a more efficient and sustainable printing process.
Find out more about GEW's UV LED curing systems on their website