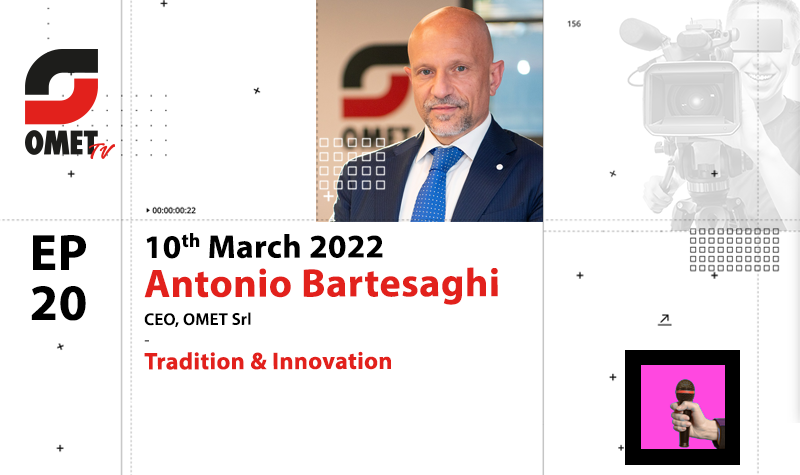 From tradition to innovation: the first series of OMET TV ends with Antonio Bartesaghi
Technology & Innovation
Thursday March 3rd, 2022
Antonio Bartesaghi, OMET CEO, will be the host of the 20th and last episode of OMET TV, the web series launched by OMET last June. The exclusive interview, shot in the new OMET Headquarters in Molteno (LC), focuses on the company's growth and prospects for the future. The episode will be visible starting from 5 pm on Thursday March, 10th on OMET social channels (Youtube, Linkedin and Facebook).
Twenty episodes, twenty exclusive interviews with the leaders of the label printing and packaging and tissue converting sectors. OMET TV has taken stock of the most current market trends and now closes the first series with an episode dedicated to OMET's innovation, a key of its competitive advantage.
In the interview by Armando Garosci (director of Largo Consumo), Bartesaghi will talk about the Group's growth, in particular that of the Printing division which moved to the new headquarters a few months ago. OMET's continuous investment in research and innovation, without losing the link with traditional values and company's history, is the focus of the interview. Bartesaghi will also answer questions about future market prospects, emerging challenges for technology producers and corporate welfare as a strategic lever for growth.
The episode will be visible starting from 5 pm of March, 10th 2022.
Each episode of OMET TV focuses on a specific theme. A special guest will comment current topics and trends in the sectors in which OMET is considered an international leader.
OMET TV is a web series of 20 episodes created by OMET. Each episode contains an interview of 15-20 minutes, and is broadcasted every two weeks starting from June, 10th 2021. All episodes remain available for free after the publication on the social channels of OMET (YouTube, LinkedIn and Facebook), as well as on the dedicated website (http://omet-tv.omet.com)
Watch all OMET TV episodes here: http://omet-tv.omet.com