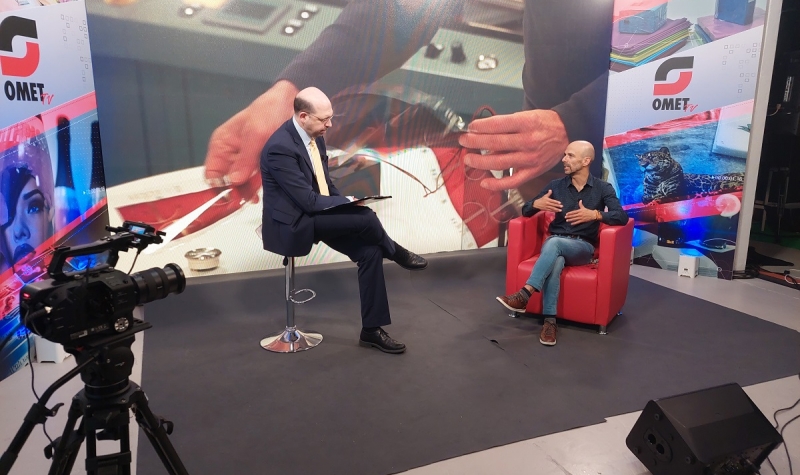 Printed electronics: innovation under the spotlight at OMET TV
Technology & Innovation
Tuesday September 7th, 2021
"Ribes Tech's research is focused on the printing of photovoltaic cells with traditional techniques and functional inks with electrical conductivity properties. These cells convert light into electricity like the silicon cells, but they are made by plastic: flexible, light, thin and therefore fully customizable. This means endless possibilities for research and business". In the seventh episode of OMET TV disclosed a few days ago, Antonio Iacchetti, Ribes Tech CEO, talks about printed electronics, considered by many as the future of the labels and packaging sector.
Ribes Tech is an innovative start-up dedicated to printed electronics, born from a collaboration between OMET and the "Center for Nano Science and Technology" of the IIT. A pioneer in this field, Ribes Tech has already developed flexible photovoltaic modules to be used as a source of energy in the fields of home automation, smart cities and the Internet of Things.
"Usually researchers have to knock on various doors to raise funds for their projects, but in our case it was OMET searching for us – Iacchetti told to OMET TV -. It was 2011 and OMET, led by Angelo Bartesaghi, was exploring the possibilities offered by electronic printing and contacted the Italian Institute of Technology to understand future developments in this field. The vision was clear: printing, in the future, will be very different and now it's time to invest in research and develop the right collaborations".
"Our photovoltaic cells are printed on PET, common plastic: thanks to their flexibility they can be applied to any kind of substrate, even curved surfaces – explained Iacchetti in the interview -. Recently we have developed an application called Daphne, a photovoltaic film to be applied on lift buttons to make them "intelligent" and able to turn on contactless, simply by approaching the hand". This technology was born in the midst of the Covid-19 emergency with the aim of helping to limit the spread of pathogens; it has already been tested in some elevators.
Ribes Tech is also committed in research on intelligent labels, that will be reported in a specific OMET TV episode over the next weeks. "Printed electronics is strategic for labels and packaging because it leads the way to next generation products realized with traditional techniques but including electronic systems that normally requires different production processes and disposal methods: they will be disposed as plastic and not as a special waste like electronic circuits" added Iacchetti.
The seventh episode of the web series conceived by OMET and conducted by Armando Garosci was published on September, 2nd 2021 and is visible for free on the OMET social channels and on the dedicated website (http://omet-tv.omet.com).
Watch the interview with Antonio Iacchetti, Ribes Tech – OMET TV, Episode 7
https://youtu.be/bfTEUewWKvg