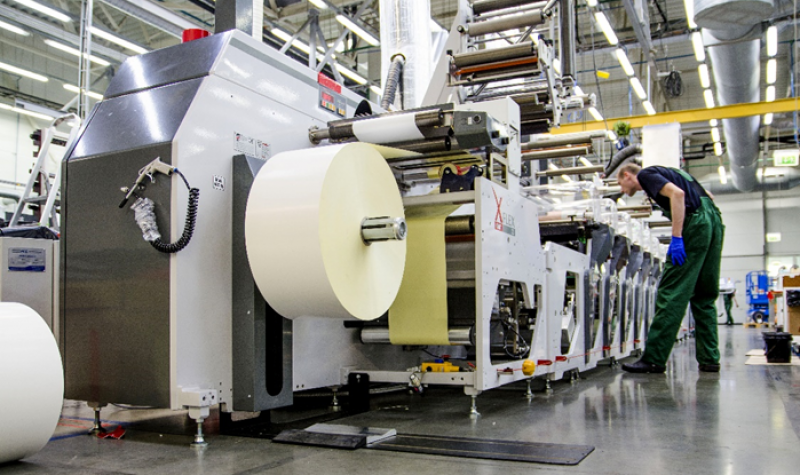 Successful installation of the third XflexX6 at PakMarkas in the most tough Covid situation.
Russian Language Articles
Monday March 29th, 2021
In the challenging year 2020 and in the most tough period of the epidemic situation all over the world Lithuanian printing company "PakMarkas" received their fourth OMET machine – OMET Xflex X6 . The company, located near Vilnius, has more than 230 employees and is one of the largest tag and label printers in Lithuania, with more than 400 active customers across Europe. Foreign trade accounts for more than 30 percent of the company's business, with the main export markets in Poland, Germany, the Scandinavian countries, Ukraine and Belarus. The company's head office and production plant, in the country's capital city Vilnius, is supported by a further sales office in Riga, Latvia.
In spite of the total lockdown and geographical restrictions, the machine has been delivered intime and installed by highly experienced and professional technical engineers of the company by daily OMET remote supervising followed up by the visit of OMET engineer for final check-up.
As Head of Prepress and printing Technology Tomas Deksnys said: "This installation has appeared a quite interesting and useful experience for our production people. In the process of online installation our engineers learnt more about electronic and mechanical arrangement of the machine which will be absolutely useful in future".
Full servo driven with direct servo drives on impression, anylox cylinders and on plate sleeve Xflex X6 has 7 flexographic units with chilled impression cylinders , combined with Peel and seal , relam /delam units , 100% control system and Twist die cutting unit for the extremely quick and safe change -over of the magnetic cylinders. Machine can run unsupported and PS materials from 12 micron up to light carton.