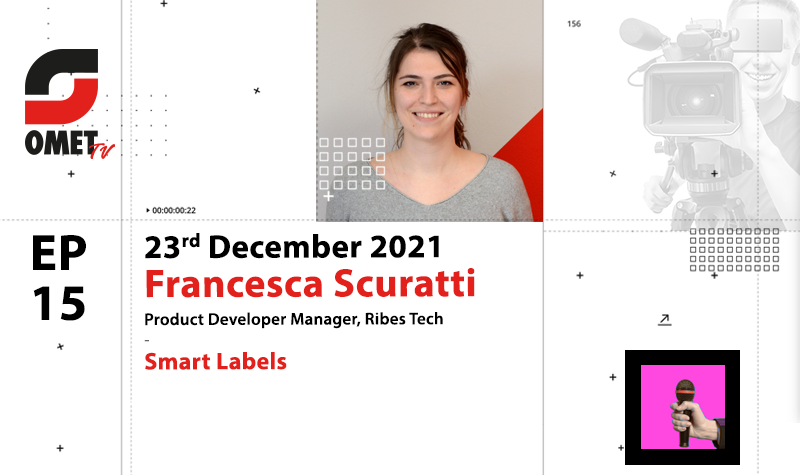 Smart Labels: the labels of the future
Technology & Innovation
Friday December 17th, 2021
In the fifteenth episode of the OMET TV web series we will talk about smart labels with Francesca Scuratti, Product Developer Manager of Ribes Tech, start-up of the OMET Group specialized in printed electronics and in smart packaging solutions. The episode will be disclosed on December 23rd on OMET social channels (Youtube, Linkedin and Facebook).
Ribes Tech, a start-up based in Milan, produces photovoltaic films printed on plastic with rotary technology. Francesca Scuratti is Ribes Tech's Product Developer Manager and deals with integrating photovoltaic printed panels in final applications, verifying their technical feasibility and design optimization, also evaluating any problem about manufacturing these devices.
In this field, the market is particularly interested in Smart Labels: an innovative concept of label, where the goal is to make intelligent standard labels by printing some electronic components inside them. This could allow to collect data, to provide information to consumers or to have a superior marketing appeal.
This episode of OMET TV will be visible from 5 pm of December 23rd, 2021. Francesca Scuratti will be interviewed by Armando Garosci about intelligent labels, and will tell her experience in Ribes Tech.
The web series created by OMET is made up of 20 episodes of 15-20 minutes each, broadcast every two weeks starting from 10 June 2021. From the day of publication, the episodes remain available for free to everyone on OMET's social channels (YouTube, LinkedIn and Facebook) and the dedicated website (http://omet-tv.omet.com ).
Each episode of OMET TV is dedicated to a specific theme and has a special guest with whom to discuss current topics and trends in the sectors in which OMET is considered an international leader: tissue converting machines and printing machines for labels and packaging.
Watch all OMET TV episodes: http://omet-tv.omet.com