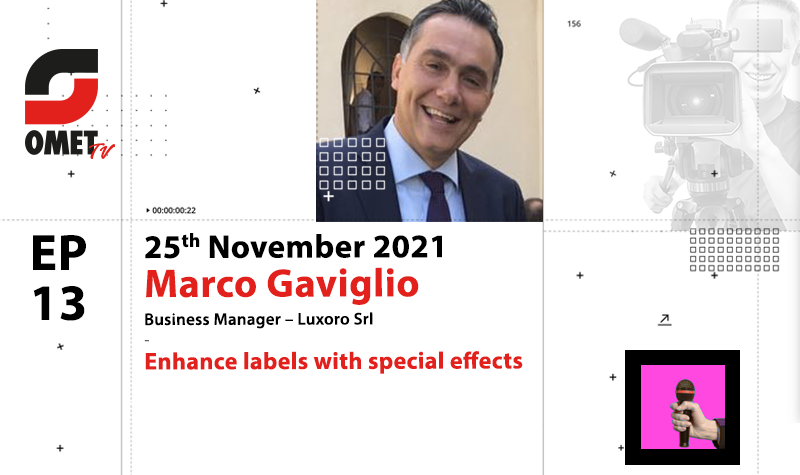 OMET TV: labels finishing and special effects
Technology & Innovation
Friday November 19th, 2021
The 13th episode of the OMET TV web series will host Marco Gaviglio, Business Manager of Luxoro, Kurz Group, who will talk about "how to enhance labels with special effects". The episode will be visible starting from November 25th on OMET social channels (Youtube, Linkedin and Facebook).
Kurz is the world market leader in the field of thin-film technology, finishing and decoration as well as in hot stamping and coating technology, with metallic effects, both hot and cold stamping, producing also anti-counterfeiting and security printing. It's a family business founded in 1899 and now at the eighth generation of the Kurz family, with 5,500 employees around the world, and 30 production and sales offices over the world.
Luxoro has been the official representative of Kurz in Italy for more than 50 years and Marco Gaviglio is the Business Manager of this family-run company, based in Parona (PV) and with 56 employees.
In the next episode of OMET TV, to be broadcasted at 5 pm of November 25th, 2021, Marco Gaviglio will be interviewed by Armando Garosci about the various possibilities of finishing labels and packaging, about the experience in this sector and the wide portfolio offered by Kurz.
Each episode of OMET TV focuses on a specific theme. A special guest will comment current topics and trends in the sectors in which OMET is considered an international leader: tissue converting machines and printing machines for labels and packaging.
OMET TV is a web series of 20 episodes created by OMET. Each episode contains an interview of 15-20 minutes, and is broadcasted every two weeks starting from June, 10th 2021. All episodes remain available for free after the publication on the social channels of OMET (YouTube, LinkedIn and Facebook), as well as on the dedicated website (http://omet-tv.omet.com)
Watch all the episodes of OMET TV: http://omet-tv.omet.com