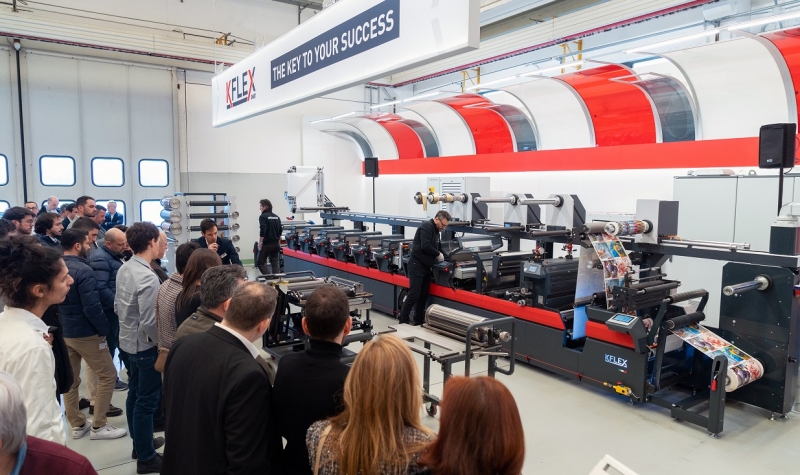 Sustainable printing lands at the Innovation Park
Global Networking
Friday March 31st, 2023
"The Green Side of Printing" was the second open house organized by OMET at the new Innovation Park, on March 28-29th 2023. Visitors from all over Europe had the occasion to know about the latest sustainable printing solutions, to attend live demos on the OMET KFlex and XFlex X6 flexo machines, and to visit the new OMET Headquarters and production department.
Over the recent years we became gradually more conscious consumers who evaluate sustainability and environmental impact before buying any product. About printing, we now evaluate paper, inks, energy consumption and waste: we wonder how to have a sustainable printing process with a low environmental impact.
To answer these questions, OMET organized an event dedicated to sustainable printing entitled "The Green Side of Printing" which was held on 28 and 29 March 2023 at the OMET Innovation Park. Some of OMET's technological partners have brought solutions and case histories on how to reduce the environmental impact of labels and flexible packaging printing process, in terms of materials, inks, energy consumption and green processes.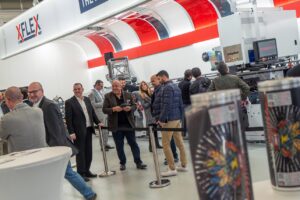 All visitors also had the opportunity to see printing demos on OMET machines at the Innovation Park: in particular the XFlex X6 and the new KFLEX, all equipped with UV-LED flexo drying systems.
The Xflex X6.0 flexo machine can integrate several printing and converting technologies in-line and can process all kind of substrates, from 12-micron film to light carton, producing many types of applications to satisfy the requests of different target markets. XFlex X6 features an unrivaled Direct-Drive flexo printing system and thanks to OMET's patented Vision system, fully automatic without operator intervention, based on a multiple camera scanning system for perfect adjustment and register control, radically reduces set-up times and waste during the start-up phase, optimizing productivity and giving higher quality results.
The strength of the new KFlex is its unprecedented modularity that makes it a multitasking platform. The machine is designed to be intuitive and safe for printers to use, to improve set-up times and reduce material waste. The new Dual Servo standalone flexo cassette can be configured with UV drying on chill drum, UV on the web, or hot air, and a modern interface with touchpad controls make it easy to use as it integrates all the main operating functions, preventing the operator from constantly moving between the end and beginning of the line. Reduced paper passage significantly limits the level of material waste, and the integration of next-generation servo motors allows automatic adjustment and control of register, as well as double pass and slipping operations.