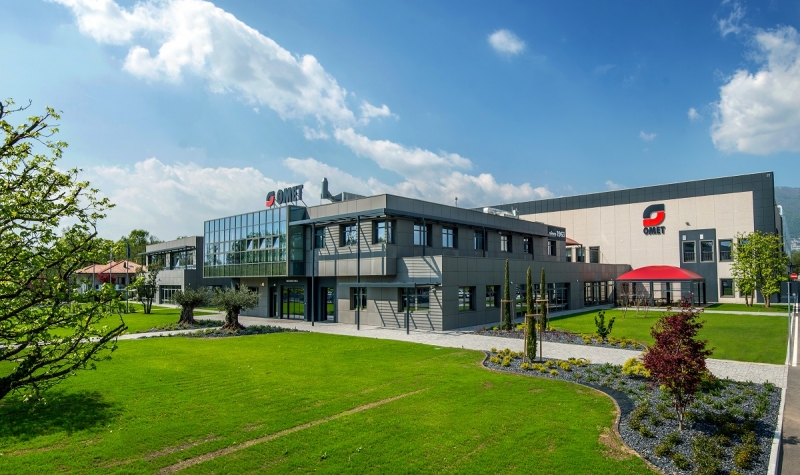 OMET at Print4All: much more than the iFlex on the stand
Global Networking
Thursday April 28th, 2022
The sustainable anilox developed with Simec, the opportunity of visiting to the new headquarters in Molteno and Galileo, the new customer care service. These are some of the new features OMET is going to present at Print4All, to be held at Fiera Milano-Rho from 3 to 6 May 2022. At stand E11-F18 in Hall 9 there will also be a demonstration of iFlex, OMET's label printing machine.
OMET's stand at Print4All will host an iFlex printing with CABOLL, the new Simec anilox which is a real technological innovation ready to revolutionize the world of flexographic printing. This innovation, developed within the OMET- Simec partnership and already tested on OMET machines, brings countless advantages: greater sustainability, thanks to the new coating developed for this product with a lower impact on the environment than the traditional chromium oxide; greater efficiency, allowing to drastically reduce washing times and cycles compared to any other anilox; and higher printing quality, considered "super premium" by leading manufacturers and end-users.
During the exhibition, visitors will have the opportunity to visit OMET Headquarters in Molteno (LC) and see a wide range of printing machines for labels and packaging. The new plant, opened in 2021, covers an area of 30 thousands square meters of which more than 20 thousands are dedicated to machinery production. OMET will provide free transfers to and from the fairgrounds during the Print4all days, from May 3 to 6. You can register online: PRINT4ALL – VISIT OMET HEADQUARTERS | PACKAGING PRINTING MACHINES
Print4All will be the occasion for OMET to present Galileo, the customer service division created by OMET to guarantee a 360° global assistance service that includes training for operators, supply of spare parts, predictive maintenance and remote control. Galileo, in all its declinations, allows error prevention, reduction of downtime, rapid problem solving, and therefore improved productivity and performance quality. Galileo works in the name of innovation and competitive advantage, two pillars within the OMET world.
Lastly, on the OMET stand you will find some insights about the future of the industry: smart labels. Specialized staff from Ribes Tech, the OMET start-up specialized in the development of new technologies for smart labels, will provide specific information.