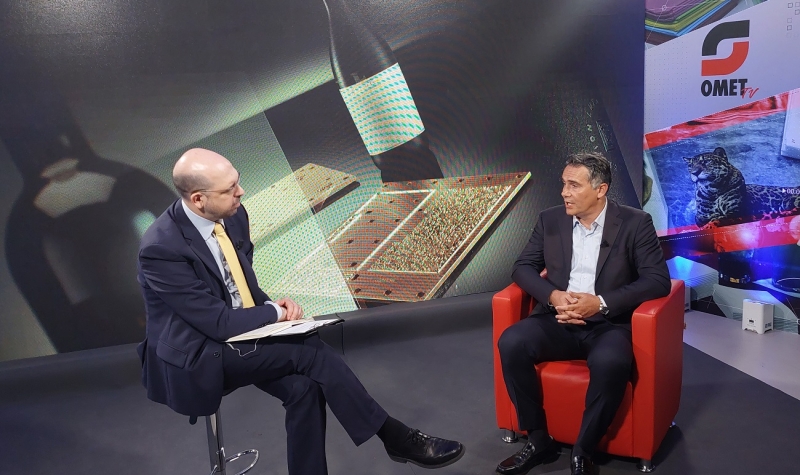 New ideas for labels finishing
Technology & Innovation
Tuesday November 30th, 2021
The 13th episode of OMET TV talks about the enhancement of labels through special effects, with an interview to Marco Gaviglio, Business Manager of Luxoro – Kurz Group, the world's leading brand for metallic effects in the field of hot and cold decoration. The company is also leader in anti-counterfeiting and production of security effects.
"Over the last 15 years, alongside the well-known hot foil application, cold foil has taken hold – Marco Gaviglio told to OMET TV -. Cold foil means applying the foil in line, mainly by reel but also by sheet, depending on a pre-printed adhesive. The sticker can be printed without using a particular cliché, a normal offset or flexo printing plate is enough. Therefore coldfoil does not require too much preparation and deep-rooted experience, as is necessary for hotfoil, and above all it allows to be faster and have a whole inline process".
Packaging design is now at the center of original and sophisticated innovations. The result is revolutionary labels that express the product's peculiarities with an elaborate and authentic appeal.
"Alongside the classic metallic effects that we offer, we have recently presented some high-gloss decoration effects – explains Gaviglio -. They are semi-transparent colors that allow to highlight some finishes in a very particular way, and let the message underneath shine through. In addition, they can be used to step-up a base color, for example if we have an opaque red paper that with this semi-transparent filter becomes a very bright red. This is something that cannot be achieved by printing a normal color".
"Anti-counterfeiting and label finishing are two substantially different worlds – added Marco Gaviglio -. Perhaps the only thing they have in common is the way of application: I apply a hot hologram as I apply a foil, in the cold version this is the same. But effects created for anti-counterfeiting can become finishing effects for labels. For example, the 3D optical survey is a very particular product, generally customized to ensure the originality of the product. At the same time, it gives a very high relief and attraction effect: the consumer is induced to touch the packaging and the finishing, but when he touches it he understands that it is completely flat, with a surprise effect!".
The 13th episode of the web series conceived by OMET and conducted by Armando Garosci was published on November, 25th 2021 and is visible for free on OMET social channels and on the dedicated website (http://omet-tv.omet.com).
Watch again the interview with Marco Gaviglio – OMET TV, Episode 13
https://youtu.be/eww1s57AHeg