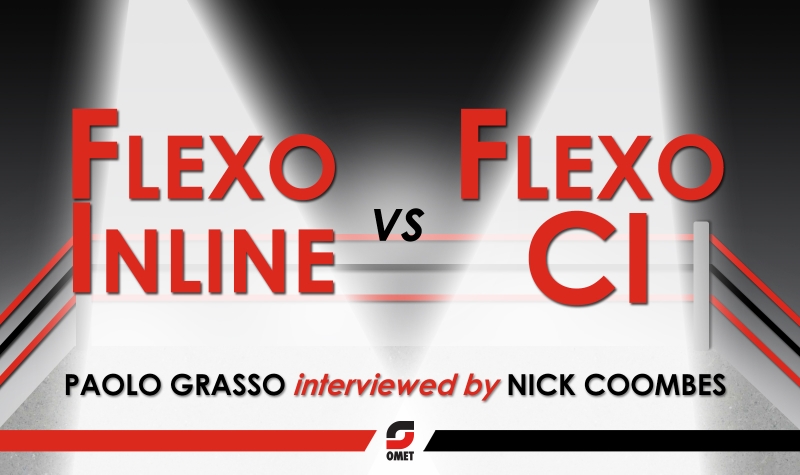 Inline or CI (Central Impression)? The flexo debate
Technology & Innovation
Wednesday February 17th, 2021
At a time when the global pandemic is wreaking havoc with public health and fundamentally changing consumer behaviour in the retail trade, Nick Coombes speaks exclusively with Paolo Grasso, Head of Sales for the Label Business Unit at OMET Srl, and asks what is driving the market, and how this innovative Italian manufacturer is responding.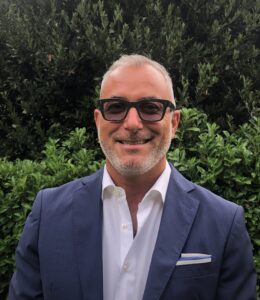 NC: Inline or CI is not a new discussion – can you set the flexo scene as you see it today?
PG: The industry has spent years debating which is the best way to go, and while there is no simple answer, the considerations haven't changed much because it depends on what you are trying to achieve as to which is the preferred technology. They both use the flexo printing technique, but that's very much where the similarity ends in real terms.
NC: Is it more about application than technique?
PG: Yes, because the two different ways of using the flexo process largely dictate the end product. So, before we delve into the subject more deeply we need to establish who does what, and why. We need to look behind the scenes and see how the two processes have developed to where they are today.
NC: How do you see the current situation with CI?
PG: In my opinion, its growth in recent years has been partially stimulated by the decline in run lengths of products that traditionally have been printed on rotogravure presses, which are not best suited to short run work. Quality-wise, solvent based CI flexo is just a sufficient match for solvent based gravure, but the investment and running costs are significantly lower if you consider pre-press, storage, set-up and so on. A CI flexo press also has a smaller footprint and is easier to operate and maintain. The competing technologies serve principally the same market, namely primary flexible packaging for the food and beverage sector and continue to do so in high volumes on web widths of typically 1.3m or more. But the trend is shorter runs on narrower presses, with manufacturers downsizing towards 850mm or even down to 670mm web widths.
NC: How does that compare with the inline flexo process?
PG: Essentially the inline process has developed from the narrow web technology that began life in the mid 1900s as a means of producing self-adhesive or pressure-sensitive labels. Over the past decade or so this sector has enjoyed a high rate of growth as demand for smaller single-pack portions and more product differentiation has increased. This is a market that is highly accustomed to the use of UV inks and lacquers, with the latest trend towards LED/UV curing on grounds of greater efficiency and lower operating costs.
NC: Where has this growth come from in narrow web?
PG: Labels have grown in size, form, and application. For instance, the beer industry that was once dominated by glue applied labels printed sheet fed offset, has recently turned to a self-adhesive filmic no-label look that enhances the appearance and therefore the perceived quality of the product. It also allows for a longer lifecycle of the brand on the bottle. Other areas of significant growth include the use of unsupported film for shrink sleeves and in-mould labels that typically use PVC, PETG, and OPP substrates. If you imagine the size of a shrink sleeve with its 360-degree decoration and compare it with a traditional label, you will see why demand has grown for inline presses with wider web widths. In this market sector 430mm (17") is normal, but 530mm (21") and 670mm (26") are both growing in popularity.
NC: Was the market quick to pick up on this trend?
PG: Yes, especially in Asia. The sleeve has a larger surface area that allows for better and more eye-catching graphics and more space for information too. It effectively changed whole sectors of the market and gave brand owners the opportunity to differentiate their products from those of their competitors. What is interesting is that in Asia, rotogravure is still the preferred print process for shrink sleeves, but in the rest of the world narrow web inline flexo with UV is the acknowledged process.
NC: Are we reaching a crossover point between CI and inline?
PG: We have a situation where overall volumes are going up, but so are the number of SKUs, which effectively means shorter runs but of a greater variety of jobs. In the case of shrink sleeve and in-mould labels, this can be easily accommodated on both types of press, which is why you see inline going wider and CI becoming narrower. I'd say the crossover point is 670mm – 850mm (26" – 33") – you can tell this by the number of inline and CI manufacturers who have developed new technology in those format sizes. It's the point where quick and easy make-ready facilitates the handling of shorter runs at a commercially viable cost.
NC: So, a converter could choose either process to compete in the market?
PG: Not exactly, because it will depend of the type of work you are looking to produce, and the market sectors you are supplying. The inline approach is based on LED/UV while the CI method is still mostly solvent-based, and this shows up in the print quality of the packaging. LED/UV is much closer to gravure in quality, while solvent-based is cheaper to produce. If you look at the food packaging industry as an example, there is currently no appetite for LED/UV in primary packaging, and this is where the inline manufacturers are fighting their toughest battles. Some progress has been made with low-migration inks and lacquers, but it is still far from being an industrial process. This is where CI is strong and, in all honesty, is likely to remain the reference technology for the foreseeable future. The only change might be a greater uptake of EB curing, but I can see this happening only if the investment and running costs fall significantly.
NC: Are there any other considerations when deciding whether to choose inline or CI?
PG: Apart from the previously mentioned quality considerations, the main issue is volume. Most modern CI presses run at 450m/min or faster on web widths of 1.3m or wider, so are set up for high volumes – the inline process has come from a self-adhesive label background where 200m/min is seriously quick on web widths of typically 430mm – there is a vast difference. CI converters measure production in tonnes, inline measures in pieces which are then converted to linear metres. A short run on a CI press might be considered as 1 tonne, whereas on an inline press 300kg would be more normal, but these figures will vary from country to country and with different applications it's not one size fits all.
NC: Do you have any examples of converters using a mix of technology in practice?
PG: Yes – we have a very interesting case study in our home market of Italy. A large printing company acquired a smaller one that had four of our Omet LED flexo lines in operation running specialised short run work. The jobs were 90% related to direct-food primary packaging, where the absence of odour taint is critical. The parent company operates exclusively with solvent-based rotogravure presses supplying the same brand owners. The only difference is run lengths – the Omet lines are economical down to 1200 linear metres, using typically 300kg of laminated film and as low as 100kg for special orders. There is no way these could be produced as economically on a CI press.
NC: In summary, what are the key factors when choosing between the two technologies?
PG: Quality, and time to market are in my opinion the deciding factors. How good does it need to be, and how fast can you deliver it? These are the issues facing everyone in package printing in today's economic climate. Brand owners want the best for the cheapest and have it soonest – it's not an easy problem for converters to solve. But what is becoming increasingly apparent is the need for flexible production capacity and a business model that is agile enough to react quickly to changes in market demand. And this makes a very strong case for inline. Shorter runs, more SKUs, faster delivery, and more added value are all factors that the narrow web sector has successfully addressed in recent years, so the knowhow and technology is well established. Where CI still scores is in larger volumes and primary food packaging where the very best print quality is not essential. Each has its place in the market.
NC: Moving on from CI versus inline flexo, how do you see digital print affecting this market sector?
PG: Demand for digital print is growing fast and there are many good exponents of this already well-established in the global market, but cost is still an overriding factor here, and until that changes I see digital as a complementary rather than a replacement technology. As no single technology can be considered to be the best in every field, Omet has different approaches so it can offer the widest range of solutions.
NC: Can you explain that point in more detail?
PG: First of all, we offer UV/LED flexo in the narrow web sector as I've already mentioned. But our platform design allows us to adapt to supplying a variety of hybrid print solutions in different configurations. For example, we have supplied customers with hybrid presses that combine offset/flexo/gravure print units, all inline narrow web, and using a mix of solvent and UV or EB curing systems. This blend of technology allows converters to achieve unbeatable quality at the lowest possible cost. For instance, offset prepress costs are negligible, which allows converters to literally throw away the plates of a job that does not get reprinted because the product was not a sales success. In addition, offset quality and resolution cannot be matched by flexo and can only be compared with rotogravure.
NC: What does a hybrid line offer to converters?
PG: I'll give you an example – to minimise the cost of laying an overall white while maintaining proper densities, we integrate a rotogravure station on the press line. Solvent white ink is very inexpensive while the coverage is the best you can get, and the change over time is reduced to just one unit on the entire press. For complete food compatibility we print wet-on-wet offset and then use an EB oven to cure all colours, varnish and additional effects in one single shot. EB curing does not require photo initiators at all so there is zero risk of migration and contamination.
NC: What other hybrids are commercially attractive?
PG: You asked about digital earlier, and a very similar concept of hybrid printing processes is the flexo/digital combination that optimises cost without sacrificing quality. Since 2017 we have cooperated on a reciprocal exclusivity basis with Durst to integrate their RSC print engines into a machine we call the Omet XJET. This press is targeted at the pressure sensitive label market as well as shrink sleeves with its 1200 x 1200dpi inkjet with 2pico-litre drops, and the cost efficiency of flexo plates with inline converting.
NC: So, what's a typical use of this hybrid technology?
PG: Well, for example, if a converter needs to do a trial print run for a brand owner's test marketing campaign, he can economically print the job entirely digitally but with a flexo plate for the white base colour. This offers big savings on the cost of printing a digital white, while still allowing a print run of 100 images all different from each other! You have to decide what it is that you need to do before you determine the configuration of any hybrid press, and as brand owners and converters look for greater differentiation, it's those with the greatest imagination that will benefit most.
NC: How do you see the market shaping up in the years ahead?
PG: Well, I'm not a fortune teller, but my feeling is that digital will definitely take a larger share of the market over the next five years. This doesn't mean that existing print methods will disappear. On the contrary, they will co-exist and complement each other. Hybridisation will become a common term in our industry, and basically what Omet is doing today will become the new standard. It's really picking the best from a basket of technologies and creating new configurations that perfectly match the customers' needs and desires.