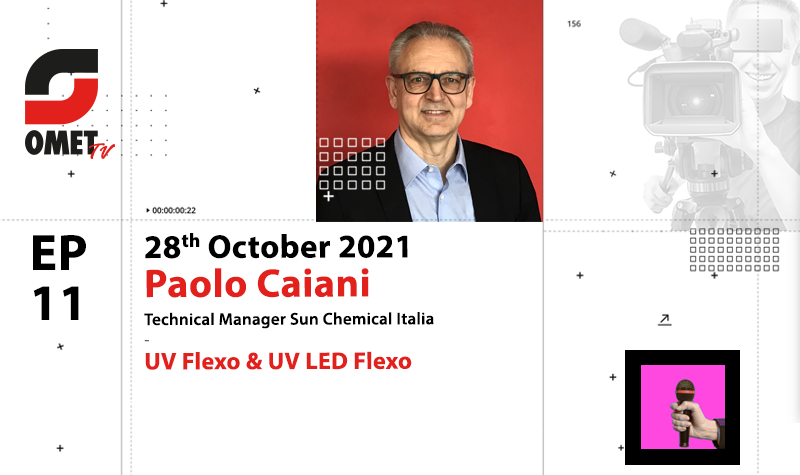 Flexo UV and Flexo UV LED in comparison
Technology & Innovation
Thursday October 21st, 2021
The 11th episode of the OMET TV web series will have as a guest Paolo Caiani, Technical Manager of Sun Chemical Italia, talking about "UV flexo printing and UV LED flexo printing" with a look to profitability and sustainability. The episode will be online from October 28th on OMET social channels (Youtube, Linkedin and Facebook).
Sun Chemical is part of DIC Group, a Japanese multinational corporation with over 22,000 employees worldwide and an annual turnover of 8.5 billion dollars. Sun Chemical works in the graphic arts sector, producing printing inks, paints, pigments, but also serves the automotive, polymers and cosmetics sectors. In Italy it has with two factories with about 300 employees, and sells about 80,000 tons of products per year.
Paolo Caiani is the Technical Manager: beyond following the sheetfed offset inks and energy curing, he has a strong experience in printing thanks to his relationship with central functions to define and guide the technological development following the needs of the market.
In the next episode of OMET TV, visible starting from 5 pm on 28 October 2021, Paolo Caiani will be a guest in the studio of the conductor Armando Garosci to discuss the differences between UV flexo printing and UV LED flexo printing from a technical and optical point of view of sustainability, with several very interesting information on the subject.
Each episode of OMET TV is dedicated to a specific theme and has a special guest with whom to discuss current topics and trends in the sectors in which OMET is considered an international leader: tissue converting machines and printing machines for labels and packaging.
The web series created by OMET is made up of 20 episodes of 15-20 minutes each, broadcast every two weeks starting from 10 June 2021. From the day of publication, the episodes remain available for free to everyone on OMET's social channels (YouTube, LinkedIn and Facebook) and the dedicated website (http://omet-tv.omet.com ).
Review all the episodes of OMET TV: http://omet-tv.omet.com