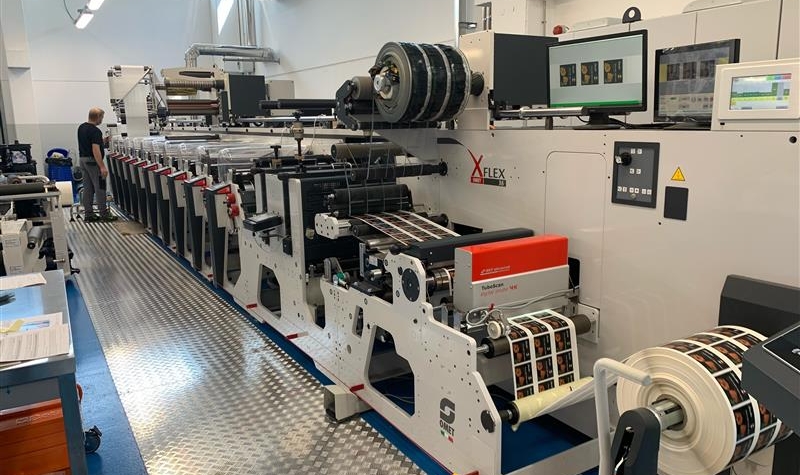 "Zero defects": when print quality and precision of inspection meet the customer's needs
Global Networking
Tuesday February 23rd, 2021
Print control reaches its highest levels when two cutting-edge technologies meet: OMET and BST eltromat have developed the best combination of printing and quality inspection, playing the game on key issues as ease of use, versatility and an excellent price/ performance ratio.
Thanks to an increasing number of joint installations, OMET's technology and the wide range of BST eltromat quality control and workflow solutions – especially with the label inspector digital strobe TubeScan for a 100% real time print inspection – have achieved valuable synergies and superior results in producing high-end labels. OMET customers are showing growing appreciation for the easiness in keeping under control the printing and finishing quality, for the effective defect detection task and for the complete workflow control, that allow them to supply faultless products complying with the job specification, with less waste and increased reliability.
"Dialogue with the machine operators has always been a top priority for us – says Roberto Maiocchi, Narrow Web Sales Manager of BST -. We consider them like the first and fundamental objective in product development, because they are the first interlocutor for our systems. We thank OMET for giving us the opportunity to perform worldwide with the TubeScan series integrated on the advanced technology of their machines".
Several operations depend on a right dialogue between the operator and systems like the TubeScan during the printing process: to verify a barcode, to inspect fine text, to monitor delta E, to recognize an alphanumeric sequence, to monitor printing patterns distances, to compare and validate a pre-press PDF, to support cutting process, to inspect reflective labels and to detect the missing ones or print faults, to check clear on clear, to inspect UV, to control rewinder and finishing stations, to count and complete, to manage workflow and remove waste.
Thanks to the combined use of BST TubeScan system and OMET printing machines, achieving a "zero defects" print has become a standard.