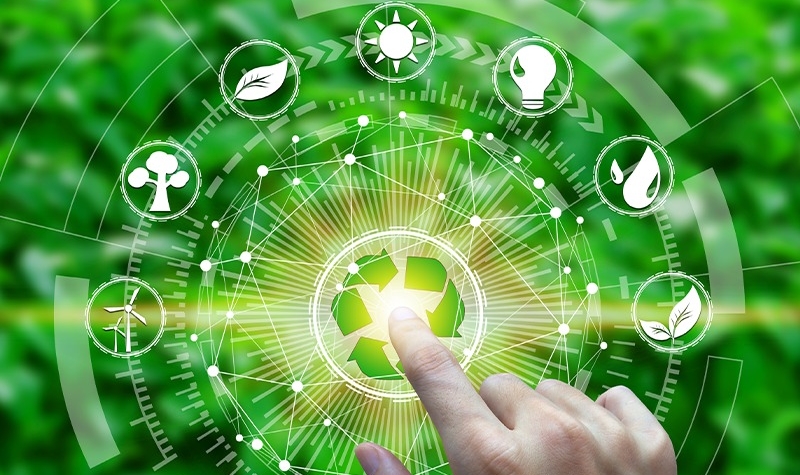 Ecological transition: a checkpoint for modern industry
Technology & Innovation
Friday February 25th, 2022
Eco-sustainable materials and technologies, waste reduction and energy savings. Here are the pillars of OMET's sustainable commitment: the Italian company designs and offers innovative technological solutions to maximize productivity and profitability of its customers, meeting at the same time the international indications to protect the planet.
"The ecological transition is essential for the entire world of industry – says Antonio Bartesaghi, OMET President and CEO -. In the medium-term, all production processes must reduce their environmental impact and pay greater attention to issues like consumption of resources, energy and raw materials. Personally, I believe that efficiency and sustainability are not opposing objectives but can perfectly be integrated or even be able to strengthen each other".
Packaging and paper, sectors closely linked to OMET's business units, are undoubtedly "hot topics" in today's environmental discussions. But OMET has always been at the forefront of sustainability with technological innovations inspired by energy savings and waste reduction.
The reduction of setup times thanks to innovative electronic systems, for example, allows greater efficiency and less consumption of resources. The same happens for the LED drying process of printing inks that needs much less energy. This process, called "polymerization", with LED technology, eliminates the ozone emissions generated by the old drying technologies. The whole printing process is therefore more eco-friendly.
In the last 2 years OMET, together with its partners, has patented new solutions and technologies that make the printing process more sustainable in terms of carbon footprint reduction (CO2 emissions). For example, they allow to reduce waste materials by more than 50%, and save time and money in transports or machine downtimes.
"Ecological transition in our business also involves the use of new generation materials, increasingly thin and recyclable, but often difficult to work with – explains Bartesaghi -. Our most important task is to develop technologies able of printing with very high quality even on these supports. Sustainability often represents a challenge for processing and printing difficulties".
"We have many ongoing projects and it's impossible to quantify an investment on sustainability – concludes Bartesaghi -. In my opinion it's a new "modus operandi" that must concern the entire organization and not just technological innovation. This year, OMET moved its Headquarters to Molteno: an important change that was an opportunity to introduce a "green" spirit in any corporate behavior. Everyone's daily work should be inspired by sustainability, starting with simple actions such as minimizing the use of paper, reducing waste, and differentiating waste as much as possible to allow recycle".
OMET Group is one of the most important and dynamic industrial realities in Northern Italy. Founded in 1963, it is active in printing, tissue converting, handling and cosmetics sectors. Today the group has more than 400 employees and a solid international position in all its reference markets. OMET's success is built on a constant search of excellence and innovation, and on the ability to maintain high levels of quality, reliability and customer service.
Since the beginning, OMET has always paid attention to social responsibility, being close to its collaborators and the territory. OMET places respect for the environment among its fundamental values, considering it an obligation towards society and future generations.
Credits
Article published in the magazine "IMPRESE" published by the Italian newspaper La Provincia, December 2021.