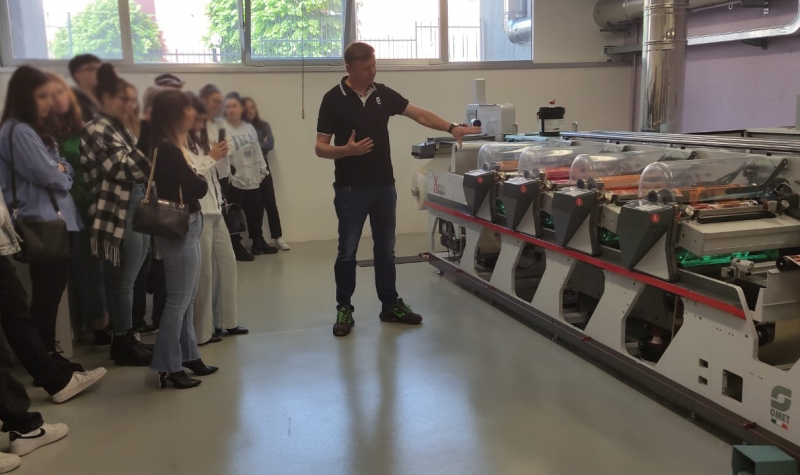 Students learning on a OMET line at the IIS Fiocchi high school
Stories of excellence
Friday April 28th, 2023
On April 27-28th 2023, 80 students of the Technical High School "P.A. Fiocchi" (Lecco, Italy) met OMET experts and technicians within the project "Digitally from sensor to cloud" organised and coordinated by Prof. Fabio Coppola. The project is part of the training program involving the "Territorial Laboratory for Employability" (LTO), available for local schools and companies some years now.
During these training days, lessons were held around the OMET XFlex X5, the packaging and label printing machine hosted at the Laboratory: students had the opportunity to experience the startup of a flexographic press and learn more about mechanical and electronic design and servitization. The trainers were Tadas Trusas, OMET Senior Print Demonstrator, Stefano Castagna, OMET Mechanical R&D Director, Amerigo Manzini, OMET R&D Consultant, Andrea Calcagni OMET Servitization Manager, Andrea Gamba, Electronic R&D Department.
Gianluca Mandanici, the Headmaster, explains that this project addresses mainly to students of technical and professional institutes with mechanical, electrical and IT specializations, and offers advanced training opportunities. The course implements their studies with the valuable support of qualified technicians from OMET and other companies. In was an important occasion to learn and work on the OMET XFlex X5, the packaging and label printing machine hosted at the LTO since 2019".
The LTO Laboratory is a network project promoted and coordinated by Confindustria Lecco and Sondrio, leaded by IIS Fiocchi and supported by MIUR (Ministry of Education). The machine has been installed free of charge by OMET and is the focal point of the laboratory: it allows students to apply what they have learnt, going beyond the simulations.
"We are proud to have contributed to this project – explains OMET CEO Antonio Bartesaghi -. It is a precious occasion to let students understand what a printing machine is, and allow them to deal with technology. We are sure that this project will help the development of professionality and competences needed by companies like ours to grow".