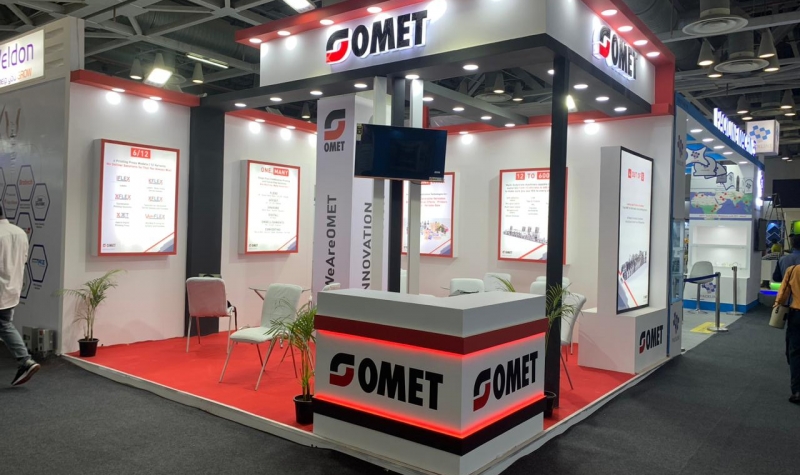 OMET returns to India
Global Networking
Thursday November 10th, 2022
OMET will be very glad to attend the next edition of Labelexpo India, South Asia's leading labels and package print exhibition to be held from 10 to 13 November in New Delhi, with its own stand: Hall 1 – Stand C6.
Labelexpo India is the leading trade fair for the printing market in the whole South Asia: it is a great opportunity to see in one place printing machines and materials of the major manufacturers and an occasion where you can meet all the key players in of the label industry.
On this occasion it will be possible to discover the entire range of OMET printing presses, learn about their (features?) qualities, their advantages and the new technologies developed by the company to help printers and improve their productivity. In particular, it will be the right event to know OMET's newest addition, the KFlex: a flexo press that represents the new frontier in narrow web labelling production. The KFlex is a new fully servo-driven model with a web path of 430mm or 530mm and maximum printing speed of 200 m/min that introduces a revolutionary way to conceive a flexo platform. It combines unprecedented flexibility with state-of-the-art technology to provide maximum performance and outstanding printing quality. The revolutionary SWITCH system allows every printer to adapt the press configuration to all production needs, today and in the future, providing always a solution in terms of productivity and quality.
At our stand in Labelexpo India you will see the quality of OMET machines in detail and you will experience the attention paid to the customer's requirements by the entire staff, from salesmen to technicians.
Thanks to its 60 years of experience, OMET is always able to provide customers not only the highest quality in terms of products but also, and more importantly, in terms of service. Attention to customers' needs and a quick response to their requests have always been cornerstones for OMET, which has been investing over the years in high quality, waste-reduction and after-sales service. Galileo is a 360° service that supports customer's production in all its complexity, from the training of operators with the new training academy, to spare parts service, from remote intervention via the NOVA app to active consulting to better customer's production processes.