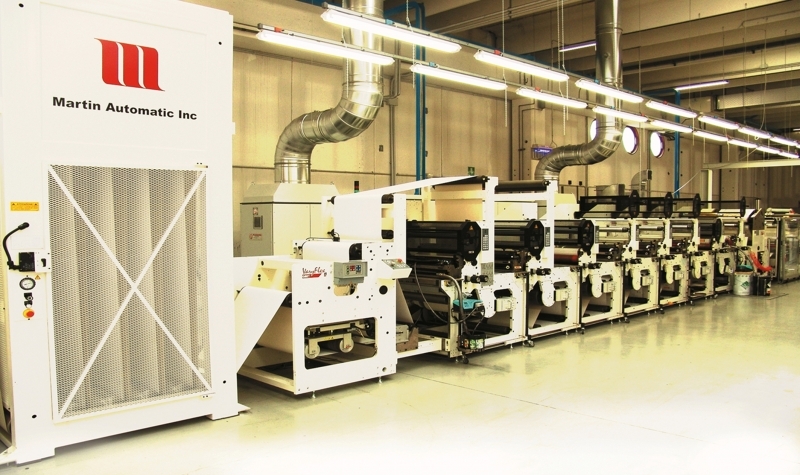 OMET Open House at Pragati, India, a game changing event
Global Networking
Tuesday May 1st, 2012
Package printers proved so with their presence. India's leading package printing companies converged to the scenic Ista hotel in Hyderabad on April 20, 2012 for the half day conference preceding "OMET Open House" at Pragati Pack. 105 delegates signed in, and they were the virtual "who is who" of the Indian package printing and label manufacturing companies! The event was organized by OMET exclusive agent in India, New Delhi based, Weldon Celloplast Limited in partnership with Esko, Dupont, Martin Automatic and VeePee Graphics.
Harveer Sahni Managing Director of Weldon welcomed the guests and opened the conference proceedings, expressing his gratitude to Pragati Pack Management: "The magnanimity of Narendra Paruchuri, his illustrious family and team is evident. His hospitality to fellow members of the industry remains unsurpassed. It shows the commitment of all these people for the growth of the printing industry. The heritage of philanthropy passed on to the next generations by the patriarch of the family Shri Hanumantha Rao is clear."
Ganpathy Thillai, application expert of Esko Artwork, based in Singapore, spoke on, "Recipes for High Definition Flexo- Matching, Offset and Gravure Quality". Mr. Jagdish Kumar, Regional Director of Dupont Asia Pacific area talked about the emerging trends in flexographic printing, Mr. Guruaj Kirsur, Sales Specialist of Dupont India gave a lesson on how to reduce wastage, shorten make ready period and explained the concept of flat-top-dots in HD flexo. Paolo Grasso, Export Sales Manager of OMET Srl, enlightened the audience on OMET Varyflex as an alternative for the package printer. He described the capability of the press to print and decorate, from 12 micron film to 700 micron board in one single pass. David Ho, International Sales Manager of Martin Automatic Inc., headquartered in Rockford, Illinois, USA, a leading designer and manufacturer of web handling equipment for the printing, packaging and converting industries spoke on Martin's line of innovative products including automatic splicers, non-stop rewinders, tension control and web guiding systems to reduce wastage. Hemant Paruchuri, Director of Pragati Pack, entertained the audience on his experience with OMET and the other suppliers path-breaking technologies. He was all praise and said "It is a complementary technology for printers with short runs that are repetitive in nature". The OMET team showed their great commitment to the Indian market. Antonio Bartesaghi, General Manager of Omet and Marco Calcagni, Sales & Marketing Director were present with their team of engineers.
Leading printers that included Manoj Mehta, former president of All India Federation of Master Printers, Nikhil Borkar of Borkar packaging, Aditya Patwardhan of Manohar packaging, Mahendra Shah of Renault, Chandan Khanna of Ajanta Packaging, Sanjeev Sondhi of Zircon India, Arvind Sekhar and Priyata Raghavan of Sai Packaging, Gautam Nerkar of Unique Offset, representatives from Manipal Press, Security Printing press, Webtech, Arunodhya Packaging and many others were present and seen participating in the question/answer session.
The half day conference was followed by a visit to Pragati Pack. The visitors who came to the event were in awe of the capabilities of the OMET Varyflex V2, folding carton press. They saw the press capability to register without human intervention and a job changeover in just 4 minutes. Along with OMET Varyflex press, also displayed was the flying splice by Martin Automatic at over 100 meters per minute, without the machine slowing down or loss of registration. The printers were really satisfied. The event ended with a networking dinner to share experiences, enjoy the visit to Hyderabad and take back happy memories.