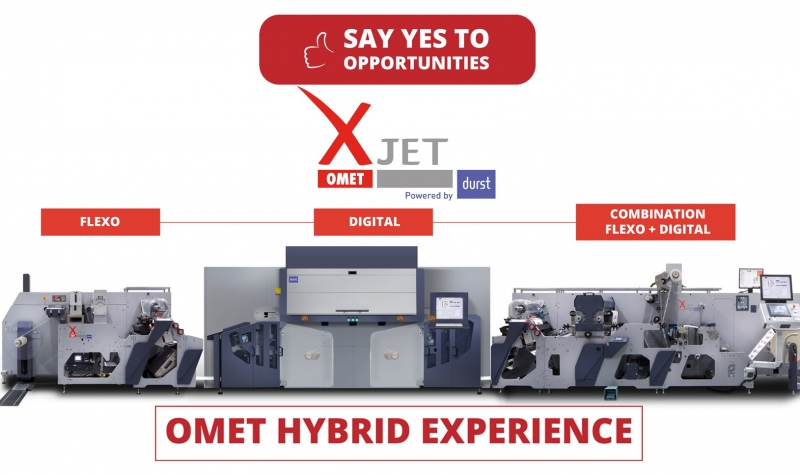 OMET Hybrid Experience: OMET announces an open house on 24-25 January 2019
Global Networking
Friday December 21st, 2018
The "OMET Hybrid Experience" open house will focus on the opportunities offered by hybrid digital printing technology in the label market and is expected to be a "must attend" event for the leading label printers of the world. It will be held in the new OMET Drome located in Molteno (Lecco – Italy) where guests will have the opportunity to see the hybrid printing performances of new OMET XJet powered by Durst and to attend special live demonstration on the iFLEX, set up in a hybrid curing configuration with UV and UV-LED.
OMET XJET printing press is the extraordinary result of the combination between the renowned OMET flexo quality and DURST digital inkjet printing technology: the perfect hybrid solution able to provide the maximum level of productivity independently from the length of the run. It is the only label press with in-line multi-process configuration, with exclusive finishing and converting units to obtain the final product always in one single passage. It widens significantly the range of printing opportunities, adapting the production to changeable market trends like personalization, justin-time deliveries and final product valorization.
At the OMET Drome this line will show its superior performances in adaptability, technology, productivity and customization with the reliability of a complete Made in Italy solution.
During the open house, guests will have the possibility to attend live demos on OMET XJet powered by Durst and OMET iFLEX LED hybrid, visit OMET plants and take a look into the future of printing by listening to the speeches of Sergio Veneziani (Ritrama) about linerless labels, Martin Leitner (Durst) about digital printing and Francesco Niorettini (Italgrafica Sistemi) who will tell his personal case study as the first Italian XJet user.
To register and have further information please contact mkt@omet.it.