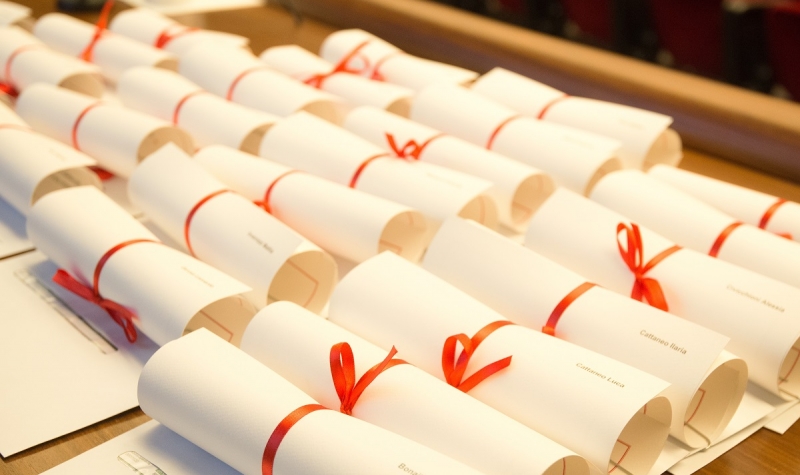 OMET Group awards 38 scholarships to employees' sons and daughters
Stories of excellence
Monday December 21st, 2020
Despite the difficulties of this 2020, due to the global pandemic and the slowdown of the market, the OMET Group made good of its tradition and awarded 38 scholarships to the most deserving sons and daughters of its employees, attending high school or universities with excellent results. The virtual ceremony took place on Decemeber 15th.
The initiative, carried out by the OMET Group for several years, meets the attention always paid to people, training and merit. "We want to award scholarships even in this difficult year, to keep the promise and to underline how merit and academic commitment must always be a priority to be valued" said Antonio Bartesaghi, President of the OMET Group, during the ceremony.
"In life, as in work and study, times for expansion always alternate with difficulties – said Bartesaghi to the students -. We must face them with serenity and determination, because these moments are never completely negative but offer hidden advantages and opportunities for improvement. We have done the same in our companies. In this period of market slowdown, OMET had the opportunity to improve processes and face important reorganization plans. O-PAC has enjoyed a positive contingent situation because of the demand for cleaning and disinfection products, so high that requests went beyond our possibilities and in some cases we chose to give up for ethics reasons. In general we have learned new things, for example deal with virtual means, we have suffered from the lack of sociality but acquired tools that will prove valuable in the future. There is still a lot of uncertainty, but we have never slowed down our investments and we move forward with confidence. I hope next year I will have the pride of hosting you at the new OMET headquarters in Molteno, which will be inaugurated in 2021".
The students had the opportunity to exchange opinions about their studies and on distance learning, and they received words of encouragement and trust from Bartesaghi for their academic and working future. "Congratulations for your commitment and your passion. Good luck to make your dreams come true" concluded Bartesaghi.