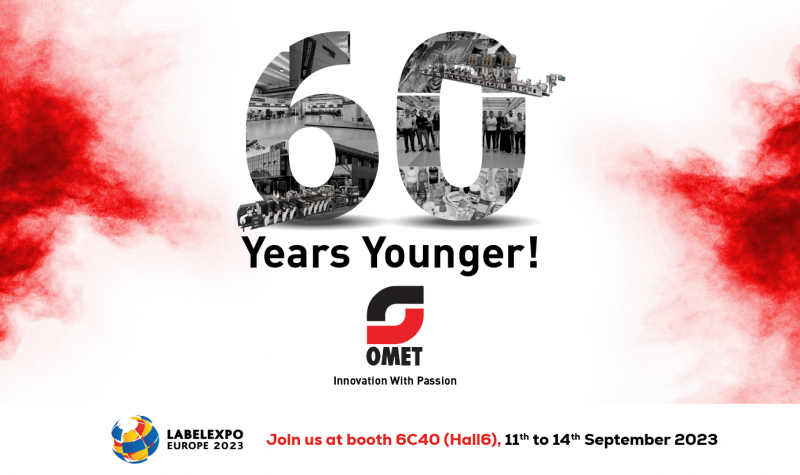 OMET: 60 Years Younger!
Stories of excellence
Thursday August 24th, 2023
It was 1963 when Angelo Bartesaghi formed OMET Srl (acronym of Officina Meccanica E Tranceria, i.e Mechanical Workshop & Blanking) with a vision to design and create special projects for different markets and industries. Today as we reflect our journey of 60 years, we share with you some of our philosophies of how we became from that vision to OMET, which is now a brand recognized from global packaging leaders as a symbol of innovation, trust and reliability.
BUILD TO LAST
From the beginning the family, the team and the company designed products and solutions which are built to last. Our lens to make products has always been focused on their quality and long life. Never we have, never we will develop products which only perform well in short spans of time. For this reason, our machines are in production for more than 15-20 years and are still generating profits for our customers!
OWNING THE EXPERIENCE
Behind every OMET machine lies our in depth know how in our 4 pillars of machine building namely Tension Control, Transmission, Technology of Printing & Drying, Patented Register Control Systems. We build these systems from the ground up so that we can control every critical aspect of running the machine. It is our core philosophy because of which today OMET is recognized as the global leader in single pass combination printing presses, where we can integrate solutions with Flexo, Offset, Gravure and Digital enabling our customers to take advantage of these processes and attain leadership!
STAY YOUNG, STAY RELEVANT
This year at Labelexpo along with the XJET we present KFLEX, our newest flexo platform which was launched in 2022, presenting yet again to the labels & package printing market a platform developed for the challenges of today and tomorrow. Along with the machines, we will present our new digital service solution, known as Sfera, showcasing our deeper commitment to our customers' success. Lastly, we will introduce our new young & dynamic team members who have joined us in various functions such as top management, sales, service and after sales support.
At OMET, while we value our 60 years of heritage and experience, we ensure that the DNA of the company stays young and relevant. We are always listening and learning from our customers, what challenges they face and what new solutions we could offer!
#60YearsYounger #WeAreOMET