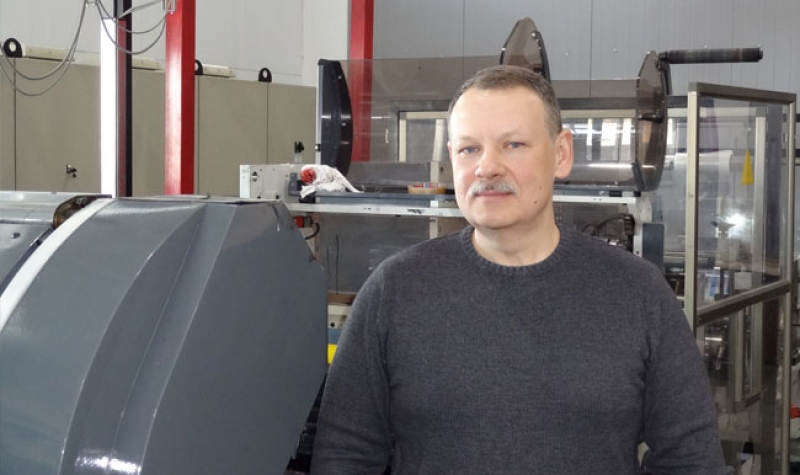 Maxiprint: not only offset, flexo and screen printing
Stories of excellence
Wednesday March 15th, 2017
Located in the suburbs of Minsk, capital of Belarus, Maxiprint typography is an important company producing self-adhesive labels since 2006. In 2012, with the purchase of an OMET Varyflex, they started to combine flexo printing with offset technology, reaching extraordinary results in terms of printing quality and flexibility.
The Varyflex owned by Maxiprint, combining 6 flexo groups and 4 offset, was the first hybrid machine sold in Belarus. It was specifically chosen to print self-adhesive labels up to 20 colors featuring hot stamping, cold foil, rotary screen printing and sheets delivery. Thanks to these additional units, Varyflex can add hot stamping on paper supports, to produce several special applications, like stamps, in a cheaper way.
The unique features of the machine and the functionality of the hybrid process – increase in printing precision and the economic advantages typical of flexography – are able to satisfy even the most demanding clients and key players in the markets of food, wine&spirits and cosmetics. This technological leap gave the Belorussian typography the crucial opportunity to strengthen its position on the market.
"Why did I choose OMET machine? – explains Andrey Sheiko, Maxiprint's owner – When we were showed the printing result of the offset press, we noticed right away the superior printing quality, higher than any other solution, and we saw the opportunity to enter a niche of the market dedicated to premium labels. A consistent competitive advantage. After four years from the installation of the Varyflex, I can say that we are very satisfied not only with the press, but also with the constant and professional support provided by OMET technical department, after-sales and logistics".
"Despite the crisis affecting Belarus economy – goes on Andrey Sheiko – the market of self-adhesive labels show constant growth. Competition is strong, but thanks to the advantages we can offer with this machine – high quality, unique technology, fast production and delivery, flexibility – we are planning to expand our market share in Belarus and Russia, where we export the 20% of our production. We also see the opportunity to enter the packaging market: we haven't done any detailed analysis yet, but we are confident that our exclusive technological capability are the key to enter that sector".
Acknowledgements to "Flexo Plus" magazine for the authorization to publish the article – February 2017