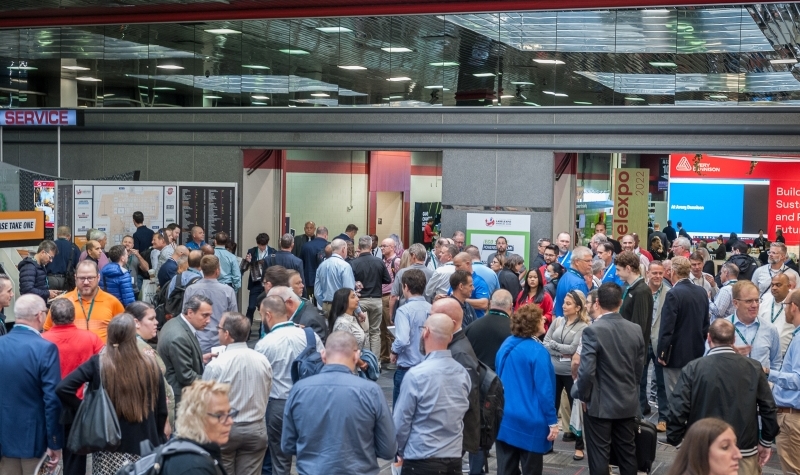 OMET presented the latest news to the American print market
Global Networking
Monday September 26th, 2022
Labelexpo Americas, held in Rosemont – Chicago (Illinois) from 13 to 15 September 2022, has just ended confirming the interest of the American market in the printing solutions proposed by OMET. The show hosted several live presentations of the KFlex, XJet and XFlex X7 lines every day.
The powerful features of the new KFlex have been designed and developed with the goal of improving its ease of use with an extreme innovation in ergonomics to help printer's operators save time and effort every day, and to give you the printers an ultimate economic advantage. The OMET KFlex combines unprecedented flexibility with state-of-the-art technology to provide maximum performance and outstanding printing quality. Our revolutionary Switch System allows every printer to adapt the press configuration to all production needs, today and into the future, giving a reliable, long term solution for productivity and quality.
Thanks to this new operator-oriented design, the OMET KFlex provides the most intuitive and easiest system use to any operator at any skill level, by supporting improved daily production, increased uptime of machine system, and impressive cost-effective operations. The new KFlex delivers top-quality print results as expected by customers with the usual reliability and performance of OMET's advanced technology and expertise.
Besides the new KFlex, great interest has been raised by OMET XJet, the flexo+digital hybrid solution in collaboration with Durst. This is the impressive result of a powerful Italian partnership: the best flexo technology by OMET plus Durst digital expertise. The XJet combines OMET modular platform with Durst's TAU RCSi, the best inkjet press on the market, with print widths of 13", 17", and 20". This all-in-one solution can be configured with any OMET high-performance printing, converting, and finishing unit, by combining digital, flexo, finishing, and converting modules all in-line and single-pass on the same press.
Today, the OMET XJet is the only hybrid press on the market with full integration of digital and flexo printing, finishing, and converting. A powerful integration lets the flexo stations start printing automatically together with the digital unit, as it were an unified operation.
In today's competitive market, brands are continuously asking worldwide leading printers to provide innovative solutions that increase the shelf appeal of their products and attract customers at points of sale. When product differentiation becomes negligible, packaging plays the most important role in creating premium perception in the mind of the customer. That's why the biggest trend we're seeing today is to add the best possible premium look to shrink sleeves and flexible packaging that make the product stand out on the shelf compared to the competitors. OMET's XFlex X7 modular printing and converting platform allows differentiation and business success to our clients.
This amazing system features a 670 mm web width capable of printing unsupported film from 9-microns thick with the maximum quality and renowned efficiency OMET flexo technology is known for. This is your ideal solution for outstanding and differentiating shrink labels and flexible packaging.
OMET Americas, Inc., is the US subsidiary of OMET Italy. Based in Mount Prospect (IL), it has recently moved to a new modern location that better reflects the growth and commitment of the company in the US market. Since its opening in 2011, OMET Americas has been constantly growing, in particular in its local sales and service support team. North American clients can rely on a local skilled team of service technicians and parts specialists, beyond a complete local stock of spare parts. From its warehouses -conveniently located in close proximity to Chicago O'Hare airport- OMET Americas can delivery parts within 12-24 hours to US and Canadian clients.
This turned out to be a key winning strategy for OMET. Sales in North America has been growing constantly every year, with more than 150 installations throughout North America and the number of new installations growing every year.
Photo courtesy https://www.labelexpo-americas.com/