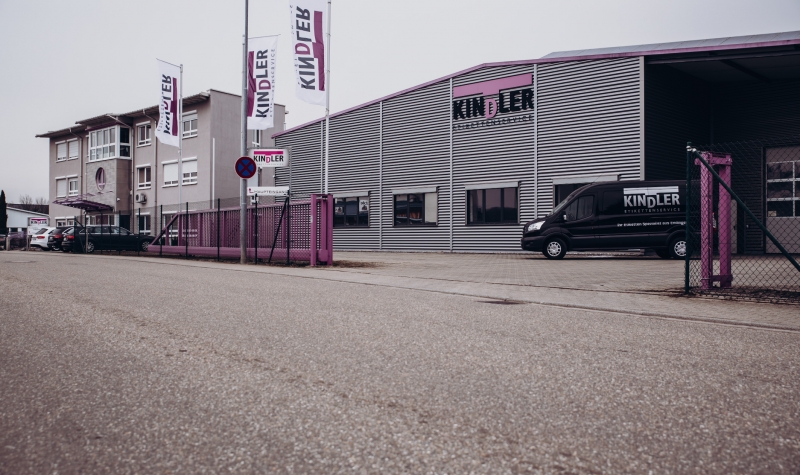 Kindler Etikettenservice raises the bar with an OMET X6 designed during the pandemic.
Stories of excellence
Thursday September 22nd, 2022
In autumn 2021, German company Kindler Etikettenservice GmbH installed and commissioned a new nine-colour Omet x6 printing press: a machine designed and installed with the support of Chromos GmbH with the dual aim of expanding production capacity for high-quality labels and developing technology for niche products.
Kindler decided to make this major investment, on a machine specially configured to its needs, despite the pandemic and the contact difficulties created by the restrictions, continuing the company's philosophy of investing in technology.
Kindler's new Omet x6 has nine printing units, plus two peel & seal units and a laminator for adding an additional layer of material. It enables the production of a wide range of labels, from peel-off and multilayer up to four-layer labels, which are increasingly in demand on the market, to industrial labels.
The machine's stability, web width and printing speed make it suitable for high-volume production of labels in the high-end segment. Kindler was therefore able to increase both production capacity and run lengths, significantly strengthening its position in all market segments.
For Klaus Sedlmayr, managing director of Chromos – it was extraordinary that a customer made an investment of this magnitude and complexity without ever having visited the manufacturer or seen the model in production: due to Covid, it was not possible to carry out extensive tests or product demonstrations on site and he had no choice but to trust his intuition. "Under these conditions, the order was a big act of faith," he said.
"During the negotiations we saw that even the most complex requests were met with creative and practical solutions," says Thorsten Kindler. "To optimise the configuration, we received a lot of input from both Chromos and Omet. This confirmed our feeling that we were dealing with experienced partners with extensive technical knowledge of the industry. The overall package also included training and after-sales support.
Below is the complete text:
A constructive partnership that brought great results
Kindler Etikettenservice installed an OMET X6 during the pandemic with advice and management by Chromos GmbH
By Klemens Ehrlitzer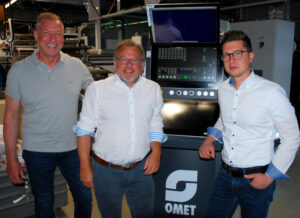 An old saying goes that any crisis offers an opportunity: in this case Kindler Etikettenservice GmbH wisely used the Covid period to proceed with the investment in a new nine-color OMET X6 printing press with the support of Chromos GmbH. On one hand, it was courageous to take on such a big decision despite the limited contact possibilities. On the other hand, the situation created fertile ground for new ideas, as Thorsten Kindler – managing partner of the Endingen-based family business – and Klaus Sedlmayr – managing director of Chromos GmbH – report in this article.
The OMET X6 was installed in October 2021 and the start up went on smoothly in the following months. The new machine was integrated into the daily production routine according to plans. Thorsten Kindler wanted to carrying on the company's philosophy of continuous investment in technology: this way the Endingen company offers its customers customized solutions that precisely meet their needs.
Two different purposes, one single solution.
At this point, a typical press release would have already provided the needed information. But the uniqueness of this project lies in the preparatory phase of the investment, when months of dialogue produced a solution that goes far beyond the initial request and kills two birds with one stone. Initially, the need was to upgrade an existing machine with appropriate technology to print some products. At the same time, Thorsten Kindler planned to replace an older machine. These two goals – expanding capacity to produce high-quality standard labels and expanding production technology for niche products – are rather contradictory and are usually considered separately. This is the popular opinion. This is where the Covid-lockdown came into play: travels were forbidden and people spent more time at the desk both in the Kindler printing plant and the Chromos trading company, OMET's agent for German-speaking countries. New ideas sprouted during office hours, so that after an intensive exchange of information, a printing configuration with very unconventional combinations emerged. A machine with this configuration had never been built, but in the end it managed to combine both the aforementioned needs.
Suitable for special labels and large runs.
Kindler's new OMET X6 features nine print units, plus two cross-over units and a laminator to feed an additional web path. It enables the efficient production of peel & seal and multilayer labels up to four layers. The demand for such labels has increased in recent years, because more and more information needs to be printed on the labels. The reasons are, for example, the Globally harmonized system (GHS) for the classification and labeling of chemicals according to Regulation No. 1272/2008 of the European Parliament on classification, labelling and packaging, also known as CLP, or warnings that must be printed in different languages. With the new printing press, single layers of products can be printed on the front and back in a single pass and then turned into a multilayer label. Larger format labels, often used in industrial applications, can also be produced with this machine.
Multiple labels are an important part of Kindler's product range, and technical possibilities have been greatly expanded with the installation of the OMET X6. Moreover, the OMET X6's process stability, web width and printing speed make it suitable for high-volume production of high-quality labels. In retrospect, the Endingen print shop was able to increase both production capacity and run options, enabling the company to significantly strengthen its position in all market segments.
Seeing with their own eyes … or trust
For Klaus Sedlmayr, it was extraordinary to see an investment of this scope and complexity without ever having visited the machine manufacturer or seen the model in production. "Under these conditions, the order was a great act of faith". In the past, the trading company had only dealt with Kindler GmbH as a supplier of a converting line many years ago.
Thorsten Kindler admits some risk. But since it was not possible to conduct extensive testing or on-site demonstrations with any manufacturer during the Covid period, he had no choice but to trust his intuition. "During negotiations, we experienced that even the most complex requests were met with creative and practical solutions. In terms of machine configuration, we received a lot of input from both Chromos and Omet. This confirmed our feeling that we were dealing with experienced partners who had extensive technical knowledge of the industry. Since the overall package, including training or after-sales support, was adequate, our decision was absolutely right, even in retrospect."
A service of high value
According to Thorsten Kindler, many aspects beyond pure machine technology has to be evaluated. "Service must be intense not only during the purchasing phase – he says – but also when you need fast and valid service after five years". For example, Kindler asked Chromos to deliver the machine with complete initial equipment. In previous installations at Kindler some components were missing or had to be reordered after commissioning. "The initial equipment supplied by Chromos, on the other hand, was complete," says Thorsten Kindler after more than 6 months. Maybe this could be a marginal note for some companies but for him it's a good index of a high quality service.
In order to start production with the new press as expected, the company had to set up a few things. In the press room, an old printing press was dismantled to create the necessary space and an infrastructure was created. The new OMET X6 was positioned in line with two digital presses with working sides facing each other. This promotes communication between press operators: everyone can learn from each other during production. This also simplifies training.
Exploiting possibilities of the new machine
The perfect integration of the new machine in the plant was a key of its success. The first step is to address the technical aspects of the new production line. Time needs to be invested in configuring plates, printing material, ink formulation, etc. Other departments such as prepress and plate production, must be involved. All parameters and gears must turn precisely to ultimately achieve continuous optimization of quality, productivity, and economy. For Thorsten Kindler, it is clear that employees' contribution is decisive: " The best machines are useless if there are no employees who master the technology and carry out the entire production process".
Thanks to the experience gained in a conscientious start-up phase and to the attention paid by the prepress department, Kindler has been able to achieve clearly visible improvements in print quality even with challenging subjects such as subtle shades of color. For example, Thorsten Kindler produces an high quality wine label with the OMET X6.
To continue growing in the future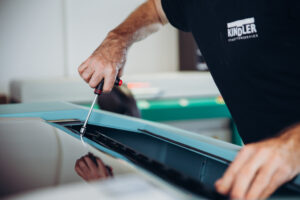 In spite of the careful start-up phase, the utilization rate of the machine has gradually increased since the beginning. The planned multi-shift operation on the OMET X6 depends not on orders but on the availability of skilled operators. Therefore, since the summer of 2022, the company has been trying to familiarize as many employees as possible with the machine.
Production capacity is needed for all market sectors. For Kindler it is true for industrial applications, for example in the chemical sector. But due to its location in the Kaiserstuhl region, the wine and spirits segment is strategic. Its range is completed by labels for food and cosmetics. In all these fields, the company pursues the objective of quality and continuous growth.
Sustainability measures like reducing energy consumption or improving waste disposal has become increasingly important. For this reason, Kindler Etikettenservice GmbH recently certified itself according to the international ISO 14001 environmental management standard and implemented an environmental management system in addition to quality management.
Market sense as a recipe for success
Rolf Kindler founded Kindler Etikettenservice GmbH in 1993 with a rotary printing press and a converting line. In the following years it added typographic, screen and digital printing technologies. As a result, the business of roll adhesive labels continued to grow. In 1998, the company moved to its current location in Endingen am Kaiserstuhl. In 2002, DPI Medienservice was added as a subsidiary, since then the complete prepress service has been available "in-house." Over time, the range of services has been gradually expanded to include digital printing and booklet production. Technology is constantly being updated, reflecting the customers' needs in the machinery. For Rolf Kindler, being on the cutting edge of technology means to stay one step ahead of the competition.
In this spirit, Thorsten Kindler tries to carry on the family business with his current 40 employees. Since 2010, the second generation has been active in the company. The succession was resolved harmoniously in the following years. He followed of his father's principle: "Develop a sensitivity to what the market demands." Customer needs are explored with an intensive dialogue. Those who know market trends can offer customer-oriented solutions in the long run. The technology needed for this goal has to be selected together with excellent suppliers.