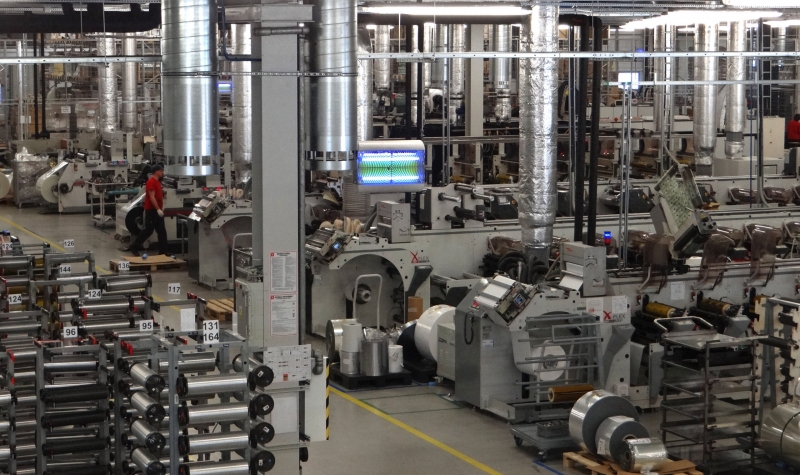 Italian innovation in perfect synergy with Polish pioneering spirit
Stories of excellence
Thursday May 26th, 2016
by Nick Coombes, per courtesy of Packaging Print Worldwide
A city in northeast Poland is not the most likely place to find a showcase for Italian print technology, but Masterpress SA, situated in the regional capital of Podlaskie Voivodeship, is the exception. Here, in a brand new 12,000 square metre production facility on the banks of the River Biala is one of Poland's leading print converters, with the largest machine park of Omet narrow web presses in Europe. Nick Coombes visited Bialystok to trace the history of this highly progressive company that has just completed an investment program costing €15 million.
Masterpress typifies the private enterprise spirit that sprung up after the demise of the Soviet Union at the end of the 1980s, and embodied the new spirit of enthusiasm and entrepreneurship that typifies the people from this part of Poland where traditional values blend well with the quest for adventure and a challenge.
And it was two university friends, Waldemar Zdrodowski and Miroslaw Zywicki who spotted the opportunity to set up a new private printing company, and grow it with the market. Initially, the company produced commercial work including brochures and printed stationery on sheet fed offset machines, but it was the move into inline flexo in 1998 that saw the business begin to grow.
Early ventures with narrow web flexo relied on American manufactured presses. With Zdrodowski's vision and the print expertise of Jacek Trykozo, who joined Masterpress in 1997 with a brief to grow and diversify the business, two 10" Propheteers were installed, a six-color and a seven-color, both using water-based inks. These allowed Masterpress to expand into the dairy and meat industries, which required roll labels. Previously, the company had supplied wet glue labels in sheet form, printed on Heidelberg offset presses.
By 2002, the company had reached its production capacity on existing plant, and having experimented with UV curing on one of the Propheteers, went in search of a new press. Of those approached, Italian manufacturer Gidue appeared to offer the most appropriate solution at the time with its Combat line, and in each of the next seven years, a new press was added to the machine park in Bialystok, with specifications that varied from four- to ten-color, all with UV capability and one with UV/WB combination. The new machines allowed Masterpress to move into the market for shrink sleeve production, and more latterly in-mould labels, and in 2006, an Athena 630mm press was installed – all previous Gidue lines had been 370mm.
But the switch from one Italian manufacturer to another followed a logical path, according to Trykozko. "We had begun negotiations with OMET back in 2005 because we could see the development potential of their technology. In particular, we liked the shrink sleeve solution they offered, and this was an area of major growth for us," he commented. The decision to install the first OMET in 2007 was also made easier with the demise of the old Gidue company, and the resulting uncertainty of future supplies.
The first OMET was a 670mm Varyflex line of unusual specification. In addition to its ten UV-flexo print stations, it was fitted with a roto-gravure unit. "We like the automatic register control on the Varyflex. It reads longitudinally and laterally, which is essential for shrink sleeve production, and the press has superior web tension control that delivers higher quality print on difficult substrates," added Trykozko, who commented that the OMET presses are preferred by his staff because they are more operator friendly.
What set OMET apart was the way they listened carefully to Masterpress' specific requirements and then tailored the press configuration to fit, according to Trykozko. "As a company they have a degree of lateral thinking, and approach each situation with an open mind on how to resolve it. It is real design engineering put into practice," he said, adding that with offices in the USA and the Far East, as well as its manufacturing headquarters in Italy, OMET offers true 24/7 service support. He is also quick to point out that Masterpress is, of necessity, fully self-sufficient for most maintenance and repair work.
A product of OMET's capacity to listen, and its ongoing commitment to development, is the fact that each of Masterpress' subsequent machines – it now has five installed – has been technically better than its predecessor. There are now two Varyflex lines, two XFlex 430mm lines, both ten-color, and the latest XFlex X6, which is a hybrid.
Specified as a ten-color press, the new OMET is configured with five UV-flexo print stations and five offset units, using sleeve technology. It also has cold foil capability and die cutting, and is fitted with OMET's own Vision-1 register system. According to OMET's sales director, Marco Calcagni: "The installation of our first flexo/offset combination press was always going to be crucial for us and the customer. We needed someone who understood our technology, and they needed a manufacturer they could rely on. I think it is fair to say we have a win-win situation here!"
What the latest XFlex X6 offers Masterpress is fine control of print quality at high speed. Designed for ease of operation, the lightweight sleeves make for easy job changes, with all preparation carried out offline, while the Vision-1 system maintains tight register at speeds up to 200 metres/minute, reading across and along the moving web. The system also controls pre-register and the automatically motorized inking trays and dampening system, as well as print pressure, temperature and web tension. Variable repeat length is available in one-inch increments, and the sleeves are pneumatically locked in place directly onto the press.
The hybrid flexo/gravure capability offers Masterpress a unique selling proposition: the vibrancy of UV-flexo inks that bring graphics to life and the ability to handle short run work by virtue of quick changeover times, with the powerful metallic finish that only gravure printing can bring to give maximum impact.
Such is their performance that the OMET lines now handle all of Masterpress' shrink sleeve output, which accounts for 50 per cent of all work manufactured at the Bialystok plant. According to Jacek Trykozko, the company is now the largest shrink sleeve producer in Poland, and with plans and capacity for growth – the company's staff of 240 currently works a double-day shift, five days a week – it is not difficult to predict an increase in their market share. For now, the company says it is content to work on improving its production efficiency with existing staff and machines, and the new 'lean manufacturing' principle around which the new factory was laid out.
As a mark of its quality, Masterpress holds ISO 9001:2009 certification, and is in the process of attaining ISO 22000 (HACCP). In addition it is accredited for GMP and GHP and is acknowledged as a 'lean manufacturer' with the 'dot' emblem. All of which has attracted leading brand names across a broad spectrum of markets. The company portfolio includes work for P&G, Colgate-Palmolive, Heinz, Coca-Cola, PepsiCo, Philips, Coty, Henkel, and Danone, amongst others – a veritable 'who's who' in printed packaging. Critical to maintaining quality is the company's policy to handle all processes in-house, from digital pre-press through printing and converting to delivery.
Concluding, Waldemar Zdrodowski stated: "As a company, we are driven by ambition and innovation, and in OMET have found a partner that is on the same wavelength!"