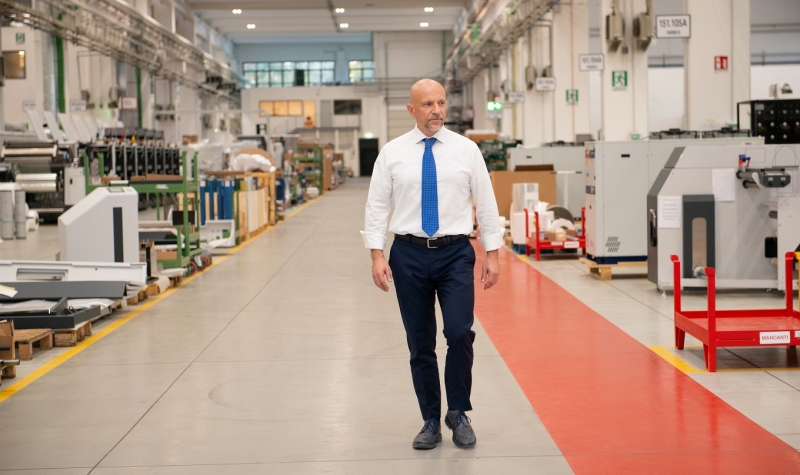 Invest and innovate to look confidently to the future
Stories of excellence
Friday December 30th, 2022
After the difficult Covid period, OMET has resumed a very high production pace and is about to set a record of order intake superior to the one set by the end of 2021. OMET President Antonio Bartesaghi in this year-end editorial tells how OMET has managed a 2022 in some ways unexpected and takes a look to the future with great positivity.
Our growth is driven by the market, which increasingly recognises the technological level of OMET's products and the expertise of its people. We are proud to receive continuous positive feedbacks from customers satisfied with their investment in our machines. As always, we will continue to focus on technological development and new products designed to give our current and potential customers the maximum advantage in terms of productivity and efficiency.
From the supply point of view, 2022 was a complex year, with critical issues never faced before. We took up the challenge and searched for alternative solutions, finally finding new ways and new collaborations to overcome the difficulties: I can say that we solved the problems very well and, as often happens, this situation helped us to improve.
Only companies with an open mind, capable of looking to the future and continuing to invest, can improve and become more competitive in the market even when the economy is difficult. The investment we made in the new building two years ago is bringing the hoped-for benefits in terms of efficiency, allowing OMET to increase its production pace and capacity.
OMET has always wanted to look forward and reinvest company profits to remain a leader in its sectors. This is the only way forward.
During 2023 we will bring interesting new products to the market, confirming the continuous innovation that featured us for more than twenty years: over these decades we have dictated the rhythm of market evolution and anticipated customers' needs. Our path is dedicated to quality and excellence of product and service, enhancing what I believe is the most important asset of a company: people, with their skills. OMET stands out for its attention to employees and for its continuous investment in training of technicians and developers: this allows us to look at the next 10 years with the greatest confidence.