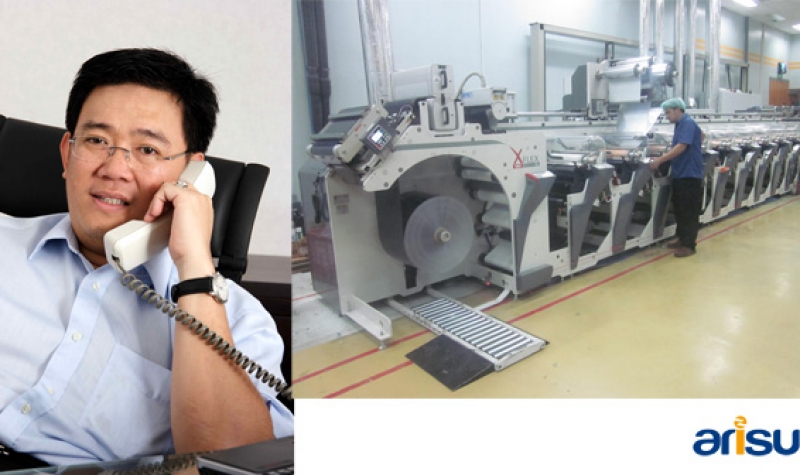 Indonesian PT Arisu Graphic Prima: lamitube printing and more
Stories of excellence
Sunday February 2nd, 2014
PT Arisu, based in Surabaya, East Java, Indonesia, is a significant country player in the flexo narrow web business for the printing of tube laminates and flexible packaging, and owns different machines of reputed suppliers. The company is active in the personal care and toothpaste market sectors. PT Arisu's products portfolio includes: aluminum laminates and plastic laminates in general, shrink sleeve packaging, sachets, pharmaceuticals and paper packaging.
This quite young and vital company was capable to grow at a fast pace while building a strong reputation for maximum quality and innovation. Started as a supplier of toothpaste and personal care tubes, soon found itself in the printing business under the direction of Suhardi Gunawan, PT Arisu's CEO and true specialist and pioneer of flexography.
In the mid of the 2000s, when Asia was still dominated by letterpress web machines, PT Arisu already understood the strength and advantages of working faster with UV flexo technology. This vision came thanks to the young and open international approach of its managing director, Mr Suhardi. He had an international experience (although his background had nothing to do with the printing business) that allowed him to "think out of the box" and do things differently from his competitors. This way of thinking later turned to be a winning one, in fact, today most of the lamitubes produced worldwide are printed in flexo. The old adagio that only CID letterpress machines could handle such tricky filmic substrates turned out to be absolutely incorrect.
PE, PBL and laminates combinations in general, are extremely difficult to control in terms of register and pressures because of their composition and surface unevenness. The machine dedicated to the printing of laminates must be extremely efficient and equipped with sophisticated controls and automatic settings, not to waste costly material. Jobs are relatively short anyway so the frequency of changeovers requires a flexo press technology where the operator is 100% computer-assisted especially for what concerns speed of registration and tension calculation.
Having such know-how, PT Arisu has invested in quality flexo press solutions with the main objective of reducing time at make-ready and general wastage. Its flexographic printing division has fully in-house digital pre-press capabilities and prints on a wide range of filmic materials. OMET has supplied to PT Arisu a multi-process XFlex X6 430 mm with 10 flexo UV colors with cold foil and silkscreen. The machine has been installed and commissioned in the second half of 2013 and has turned out to be exactly what the Indonesian company and Mr. Suhardi, were looking for: a press easy to operate bringing large savings in waste and time at start-up.
Credits: http://arisu.co.id/