Indet invests in the OMET XJet hybrid line
Global Networking
Monday May 10th, 2021
Indet company located in Gallarate (Italy) joins the OMET customer team with a full optional hybrid OMET XJet 420. The purchase agreement was recently signed.
Indet Srl, based in Gallarate, is an international company that deals with label printing all-around, ranging over potentially unlimited fields of application, including food & beverage, cosmetics, chemical, mechanical and electronic industries.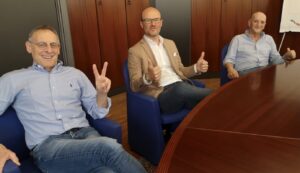 The investment in a flexo + digital hybrid printing machine like the OMET XJet is a step towards the future: this extremely flexible machine allows to create short just-in-time runs of customized labels but also to combine the two technologies, enhancing the potential of Durst digital printing and traditional OMET printing.
OMET XJet offers a perfect register synchronization of flexo and digital printing, in-line finishing and die-cutting, allowing exceptional results with the minimum waste.
"We are very satisfied with this agreement and we believe that Indet has made the best choice. This is an important goal also for OMET: it's the first hybrid machine we install in Lombardy – says Roberto Speri, OMET Key Account Manager who closed the agreement. -. I thank Adriano Gozzi and Franco Mason for believing in our technology. We are proud of it. This machine will be a point of reference for interesting future developments".