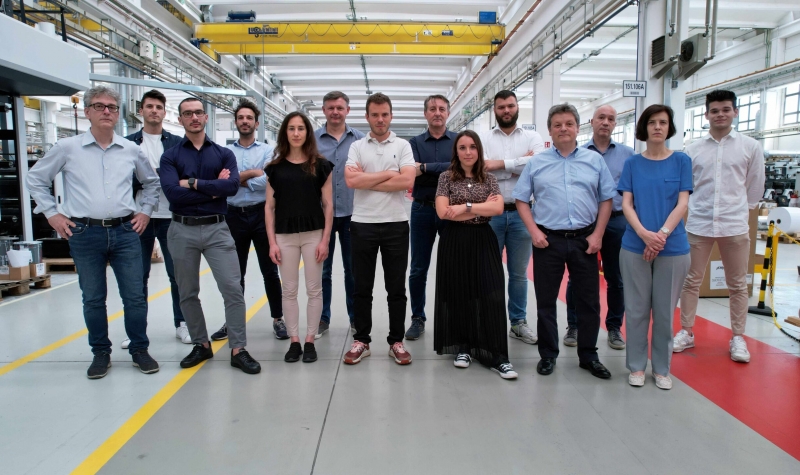 GALILEO Team
Stories of excellence
Friday July 14th, 2023
OMET Aftersales team has come a long way since the customer service department was first established at in the 1990s. From that day, the number of employees has more than tripled. The 4 pillars are still there, but with them 10 more people have embraced GALILEO's ideals.
Attention, kindness, helpfulness and competence are the key words of the company philosophy, as well as of the OMET Customer Success department.
Thanks to the increasing number of employees, OMET has been able to offer even more timely and quality service. Every customer can count on dedicated support, ready to respond to inquiries and solve any inconvenience that may arise.
The team is not only able to solve the problem once it has occurred, but more importantly, they are able to prevent and anticipate it. This way, inconvenience and inefficiency can be minimized. Planning ahead is always the best way to deal with changes. OMET knows that, and proves it every day.
The GALILEO Team consists of 14 people, among which 3 are entirely dedicated to the Tissue division, 4 are assigned to Printing and the remaining 7 actively collaborate on both sides.
The company's philosophy is based on the idea that the customer's success represents its own success. This reflects an ongoing commitment to ensure maximum satisfaction for customers. OMET understands that the true value of a product goes far beyond the simple sell: it also includes the support provided after the purchase.
Thanks to the training and expertise of the Aftersales team, OMET is able to offer high quality service, experience and reliability.
The success of the OMET Aftersales team is witnessed by the trust that customers place in the company. The department's growth in recent years is a visible sign of its commitment to providing excellent service. OMET demonstrates that investing in customer care is not only essential to the customers satisfaction, but also contributes to the long-term success of the company itself.
#GALILEO, easier with us