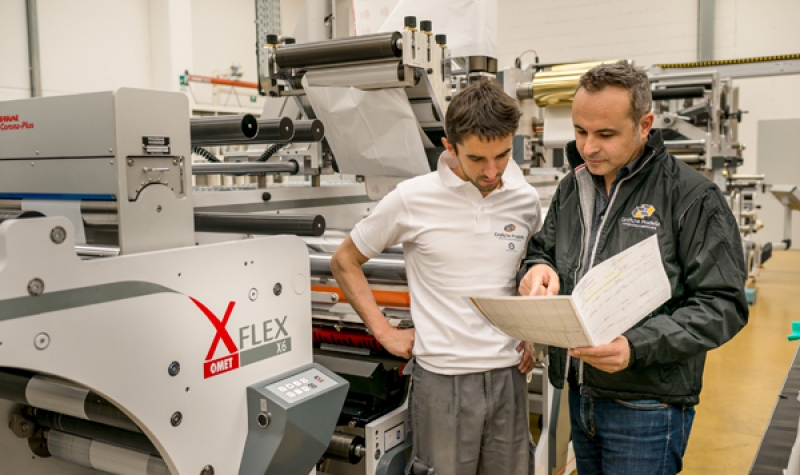 Grafiche Pradella: investing in the latest technology is the secret to ensure a steady growth over time
Stories of excellence
Wednesday May 21st, 2014
"Time will confirm if a job is well done," so quotes the website of Grafiche Pradella, a printing company founded in 1918 by Ido Pradella as a small print shop in the rear of the homonymous stationery of Bormio-SO, Italy. In the 70s, thanks to the foresight of his children Italo and Felice, the company expanded with the purchase of the first offset printing machines.
Gabriele Pradella, the only representative of the third generation who followed in the footsteps of the family, makes his entrance in the company in 1991, after graduating as a Graphic Specialist at Rizzoli Institute of Milan. The same year, it is his idea to enter the world of flexographic printing with the purchase of the first machine in 6 colors using water-based inks.
The encounter with OMET takes place in 2001 with the purchase of a Flexy 330 with 8 colors. The arrival of the new machine poses a logistical problem: the plant of Bormio is too small to accommodate it and the company has to quickly relocate part of the production in a rented building in the town of Cepina-SO.
With the acquisition of major clients in the pharmaceutical and food industry, the company continues to expand and soon it becomes necessary to further enlarge the area dedicated to production. It is so that in 2011 Grafiche Pradella opens the plant in Mazzo in Valtellina-SO. The new headquarters cover an area of ​​6000 square meters, of which half covered intended for the production, in which 15 employees work on 2 shifts.
Grafiche Pradella moves in four key market sectors: food, cosmetics, pharmaceutical and industrial. With the purchase in the beginning of 2014 of a new machine for offline hot stamping and screen printing the company has begun the penetration in the wine industry, very dynamic and relevant in the Valtellina area.
"What sets us apart from the competition is the direct relationship that we establish with our customers," says Nicole Ghilotti, Sales and Communications Manager at Grafiche Pradella. "Our size allows us to produce from small to large runs, giving due importance to all customers, regardless of their printed volumes demand." The guarantee of an 'all inclusive' service, then, ranging from the study of the graphic to the development of practical solutions for paper-making, makes the offer of the company even more appealing.
The creation of the graphics internally and the use of HD, the speed of response and the excellent management of emergencies complete a picture already very promising for any potential client. A good SEO ranking helps the company emerge as supplier of special materials and uncommon printing processes.
Grafiche Pradella is also very attentive to the dynamics of quality and the environment. The company is ISO certified and the quality procedures are strictly followed by every employee of the company. A FSC certification will be implemented in 2015.
"The purchase, completed in early 2014, of a new OMET XFlex X6 430 with 8 colors, complemented by a 100% inspection system of E+L, will enable us to print on a wider range of materials, to include films and laminates, and to be able to offer a quality increasingly higher," continues Nicole Ghilotti. "In OMET we found a reliable partner, practical and up to date on market trends and new technologies. The geographical proximity to OMET's plant in Lecco is the last piece that completes an already excellent overall picture and allows us to obtain, for any need, prompt, and efficient assistance."
Credits: www.grafichepradella.com