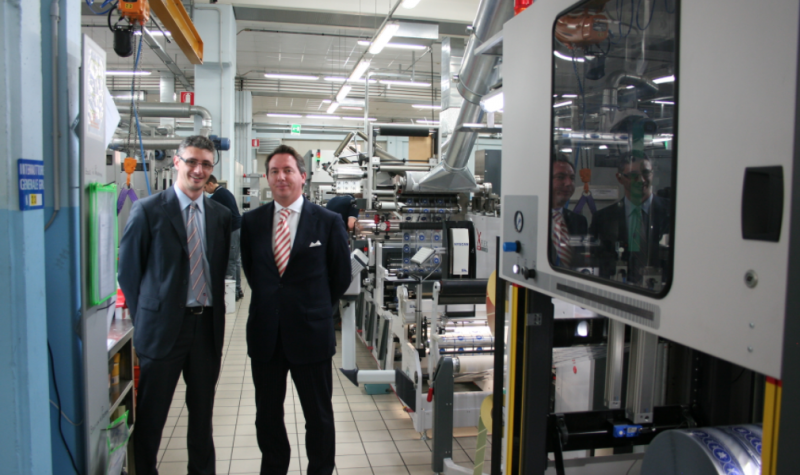 Eurostampa, Italy: global spirits specialist spreads wings
Stories of excellence
Wednesday May 22nd, 2013
by Andy Thomas, per courtesy of Labels & Labeling
To succeed at the highest levels of the global label industry requires a relentless pursuit of excellence, regular investment in the latest equipment and the closest possible relations with the final customer.
Italy-based converting group Eurostampa is an excellent example of all these qualities, which explains how it has grown in the last five years into a trans-Atlantic powerhouse with plans to expand into fast growing developing markets.
Eurostampa was founded in 1966 by the Cillario brothers in Salmour, Cuneo province in Italy, with the first factory built in 1971. Over the next 15 years Eurostampa developed its core business of wet glue labels for mineral water, beer, foodstuffs, alcoholic beverages and chocolates. In 1999 the company moved into PS label production and Luciano Cillario acquired full control of the company, becoming president and managing director. His three sons joined the business and today Gianmario runs the Italian operation and Gianfranco the production facility founded in North America in 2009 .
Closer to spirits brands
Key to Eurostampa's success has been the ability to work closely with brands in the spirits and beverage industry both in Europe and the US, bringing innovations and best practice from its Italian base to clients in North America and, through a further acquisition, into its Scottish operation.
The new plant in Cincinnati was set up in 2009 as part of a $9m investment after Eurostampa spotted an opportunity to shake up the wet glue spirits market with some European innovation (see the excellent article by LL North American editor Danielle Jerschefske at http://www.labelsandlabeling.com/news/features/italian-converter-succeeds-in-us-heartland).
'We found it impossible to properly service US customers from our Italian factory,' says Gianmario Cillario, now Eurostampa Group Managing Director. "Some of our competitors were still using 25 year old machines, where our mentality is to change machines every 5-7 years to take advantage of new technologies and features." The plant is sited close to the Bourbon distilling hubs in the US.
Employees are regularly transferred between the Italian and North American operations and Eurostampa engineers have developed a proprietary ERP system which has consolidated the lines of communication between the two locations.
The US strategy has been enormously successful, with 30 percent growth predicted in 2013.
In March 2011 the management of Scottish spirits label specialist Gilmour & Dean approached Eurostampa with a proposal to become part of the group. The negogiations were successful and Eurostampa gained a base to service the key Scots and Irish whisky markets locally rather than from Italy.
Immediately after the acquisition, Eurostampa implemented its customary strategy of completely overhauling the production machinery and customer service, this time working with the existing management team. "The company had had multiple owners and was not profitable and had mostly old machinery," says Gianmario Cillario. "Customers were happy with the quality but not with the support or service."
Gilmour & Dean is now growing at 20 percent and Eurostampa has big investment plans. 'The people in this case are the main asset and they are running the operation today directly,' says Gianmario.
Early in 2010 Eurostampa opened a sales office in India, and is considering its strategy in that country. "India will clearly be an important market in the future, and better than China," says Gianmario. "We spent a year talking to Indian companies, but could not yet find the basis of a deal."
The company has also had an office Brazil since 2004 and Mexico is viewed as a possible strategic opportunity.
Market trends
Spirits now represent more than 70 percent of the 13 billion labels Eurostampa produces every year. Although the company's original focus was high end wet glue labels, there has been a continuing trend towards pressure sensitive labels in this sector.
In the group as a whole, wet glue labels account for 60 percent of production, against 40 percent for PS. But in Italy it is already 50/50, and in the US 55/45 wet glue/PS. "Next year as a group we will be 55 percent PS and 45 percent wet glue," says Gianmario.
Factors driving the move to PS include the increasing installed base of PS applicators. "There is a large installed base of older wet glue machines, and when these companies reinvest it is in PS applicators," says Gianmario. "The move to PS is usually driven by overall efficiency and a lower total cost of ownership of a PS label against wet glue. The wet glue machine you have to wipe down and there are change parts for job changes. So although the cost of a PS label is more than for wet glue, the total cost of ownership is less. If you add the ability of narrow web presses to add screen and hot foil in line and you have the perfect storm. Within the PS sector there has been some move from PS paper to film and from glassine to PET liners, though this depends on the particular application. FINAT is working on this issue," says Gianmario.
Customer service is a critical component of Eurostampa's offering, and in 2003 Eikon srl was founded as a company dedicated to graphic design and marketing, working closely with brand owners to introduce innovations to their product lines.
"In an economic crisis in order to grow we have to grow through our customers, and this means supporting them with innovation in good times and with price in bad times. That is why we are still growing although there is a crisis in Italy," says Gianmario.
Narrow web investment
Although originally a Gallus house for its Italian pressure sensitive label production, Eurostampa has since 2009 focused on OMET as its press supplier. The first Omet XFlex X6 press was installed in 2009. It is an 11-color machine with seven UV flexo units, four UV screen, double die cutting station, two rail-mounted cold foil units, a hot foil unit and Vision-1 automatic inspection system. A de-relam unit and turnbar allows printing unit on the adhesive.
The second 430mm-wide XFlex X6 press was installed last year and has eight UV-flexo printing units, one UV screen station, one cold foil unit, double die-cutting stations and Vision-1 inspection. The press is configured with ancillaries including E+L web guide, Vetaphone corona treater, double-sided Kelva web cleaner and Kocher & Beck URS auto unwind and rewind.
Eurostampa has now confirmed the order for a third Omet XFlex X6 press, this time a combination sleeve offset and flexo machine, incorporating hot and cold foil, lamination and UV screen unit.
Finishing is carried out on six Prati Jupiter inspection rewinders, with two more on order.
On the wet glue side of the business Eurostampa has six Heidelberg and Roland presses and eight Bobst Foiling machines along with a host of other finishing equipment.
Digital pre-press includes two Afga offset CTP units and a CDI Spark XT paired with DuPont FAST thermal processor to handle digital flexo plate duties. All are driven by an Esko workflow system.
Modern factory
Both narrow web and sheet-fed presses are located in a state-of-the-art 27,000 sqm factory located in Bene Vagienna. The plant was completed in 2008 and a further 27,000 sqm remains available for further expansion. The plant has BRC (British Retail Consortium) accreditation for food grade production for both its wet glue and PS facilities – critical when producing for the food and beverages sectors.
The Bene Vagienna operation includes a fully automated warehouse for paper stocks and finished labels for the wet glue operation, where more than 10 percent of production goes to stock for customer call-off. "We are now thinking about extending the automated warehouse concept to the flexo press production area," says Gianmario.
Eurostampa has implemented a comprehensive track and trace coding system for all materials, ink and other print components – one of the most advanced this author has seen. Customers can specify a discrete data matrix code, or QR code on any Eurostampa printed label, which holds the part number and the job number of the label and brand. All labels are run through a specially engineered Prati conveyer machine equipped with vision systems where the codes are automatically scanned and incorrect labels ejected. This highly effective process eliminates any possibility for labels becoming mixed.
There is comprehensive QC control in the plant, with all label rolls checked with a spectrophotometers to ensure they are within customer specified deltaE values.
Eurostampa runs continuous improvement programs jointly with the University of Turin including sustainability initiatives such as carbon footprint monitoring. There has been a €150k investment in an automated matrix waste removal system for all the plant's narrow web presses.
The Cillario family approach to management is highly personalized. "I am here in person for any problems our workforce may have. People can approach me any time I'm walking through the plant," says Gianmario. "In recent weeks we have held discussions on flexible working times, for example."
Bright future
Moving forward, the future for Eurostampa looks bright. The group as a whole grew by 3 percent growth during the difficult economic times of 2012 and is looking to accelerate growth to 10 percent in 2013. Add to this the possibility of future expansion into the fast-growing Indian and Latin America label markets – using the experienced gained in the North American and Scottish acquisitions – and this company is clearly a rising star on the world stage.
(published per courtesy of Labels and Labeling)