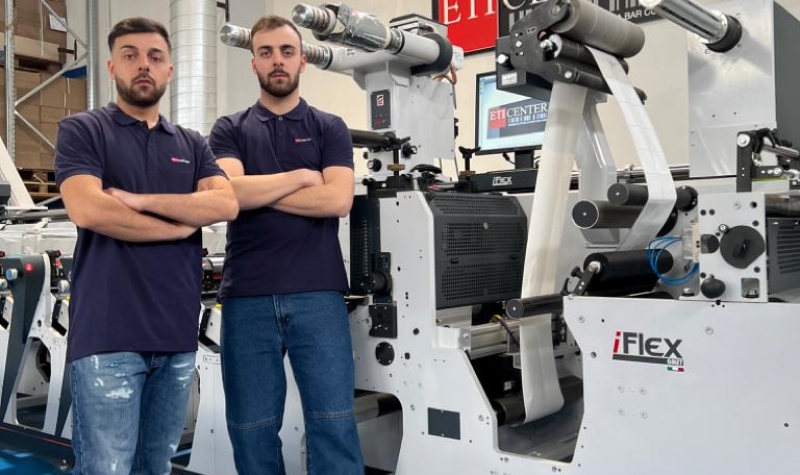 Eticenter, the growth of a label factory in the South of Italy
Stories of excellence
Thursday May 4th, 2023
A family-owned company founded in the 1990s, grown with OMET technology. Eticenter, located in Castellammare di Stabia in the Campania region, Italy, is going to expand its market share with the recent investment in a new OMET Iflex 370, installed in January 2023. In the following interview, the owner Margherita Del Gaudio tells us the story of her label factory, well positioned in the Central-Southern Italy and now growing thanks to innovative ideas and new products.
When and where was your company founded?
Eticenter was founded in 1994, initially selling and distributing products for the barcode reading and printing industry. Only my husband Ferdinando Santaniello and I worked there. Over the years the business has grown, and we started producing labels for our customers. After 7-8 years we had a nice portfolio in this business and labels were increasingly important in our turnover.
How did your label business grow?
Initially, we just marketed them, but relying on outside suppliers didn't allow us to be accurate on deliveries and created problems on customers' special requests. Around the year 2000, we started making labels by ourselves.
How did you decide to invest in OMET technology?
Our adventure in label production started precisely with an OMET ET 420, purchased second-hand from another label maker. It was a very performing machine that allowed us to produce directly label rolls. We still use it today. Later we bought an OMET Flexy 255, also second-hand, and expanded our machine fleet with other lines before the recent investment in a new OMET line.
What is the need for this new investment?
We use the flexo machines to produce printed lables and the others for plain labels. In recent years we often felt the need of a more technological and high-performance machine to provide customers a faster turnaround, more aggressive pricing, innovative products and better quality.
Which OMET machine did you choose and why?
Being comfortable with OMET lines, we immediately decided for this brand: we chose an OMET IFLEX 370, delivered at the end of 2022, and tested in mid-January. OMET Area Manager Andrea Campani followed us in the purchase process of the new machine.
How is this line helping in developing your business?
Our goal is to work better and better. A new machine of this level will enable us to produce better in terms of quality, performance, and speed. We will be able to target new, larger companies and satisfy increasingly complex needs: for example, new products such as In Mould Labels (IML) or wrap-around labels.
What do you appreciate the most about OMET machines?
What won us over about OMET technology is the ease of use: even in the beginning, although we didn't have a lot of experience, we were able to master them quickly and we always found them robust and reliable. When we needed help, OMET customer service has always been available and very helpful.
How big is your company today?
It's still a family business with only 7 employees, but we are growing as a space, turnover and market thanks to recent investments. Our sons Antonio and Giuseppe just joined company and their enthusiasm and innovative ideas about technology, Web, and time reduction in production and delivery are driving us towards an important evolution that we support with our experience. Within a few years we would like to expand the production area and better organize our work, to answer promptly and efficiently to customer needs.
How are you positioned in the Italian market?
Our main customers are from the Center-South, the remaining 20-25% belong to other Italian regions. We are very closed to local businesses like food, pasta and canning industries located near Gragnano and Salerno, but also tailor shops and ready-to-wear fashion companies.
How do you see the market evolution in the near future?
Despite the difficulties of the last few years, the label sector has experienced significant growth: for this reason I am positive. Today the market is looking very much at sustainability, so we are working to produce eco-friendly labels, for example with recycled paper fronts or low environmental impact inks.