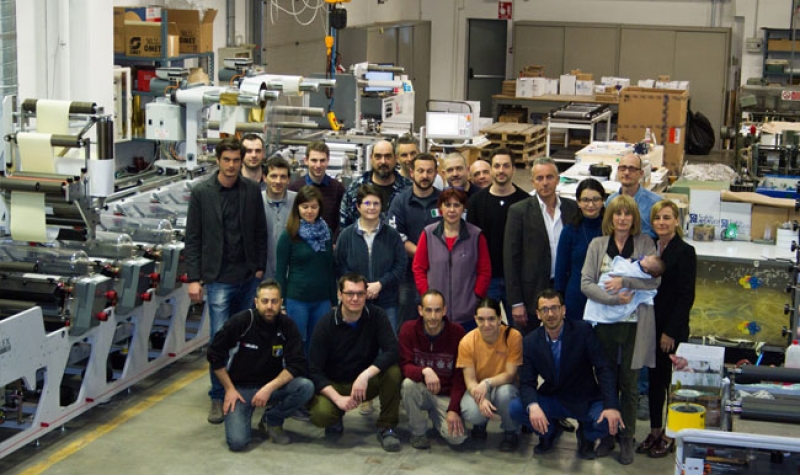 DOUBLE INSTALLATION AT GRAFICHE AMADEO: THE SECOND OMET X2 370 IS READY TO PRINT
Stories of excellence
Tuesday March 28th, 2017
In the beginning of 2014, OMET delivered to Grafiche Amadeo the first X2 370 featuring 6 colors UV and cold foil printing. The Ligurian company, renowned as a first-class typography in the sector of sheet printing, had decided to diversify their offer by entering the self-adhesive market with the production of labels in rolls. For this reason, they chose OMET as the most appropriate partner to make this strategic leap, recognizing its global leadership in this very sector.
Grafiche Amadeo hit the nail on the head: after a cautious start – to avoid spoiling their strong reputation obtained in the sector of sheet offset printing-, by the end of 2014 the new web flexo project began to show promising results.
In 2015, the demand for printed labels registered a huge boost, which kept on growing even in the first months of 2016. This unstoppable growth persuaded the owners of Grafiche Amadeo to consider the purchase of a new flexo line. Thanks to the mutual esteem of the two parties involved, the agreement for a new machine was reached in a blink of an eye, at an excellent restaurant in Imperia, on the Ligurian coast.
The new X2 370 with 8 colors UV, installed at Grafiche Amadeo premises a few days ago, features double die-cutting station, 2 Cold Foil units, Delam-Relam for backside printing and other innovative solutions which will allow the printer to stand out from the crowded scenario of self-adhesive label market.
"We are sure that, after years of mutual trust, we will attend further inaugurations together". This statement is music to the ears of both companies: OMET will have the opportunity to install more machines, and Grafiche Amadeo will be able to increase their production potential to cope with the ever-growing demand for self-adhesive labels.