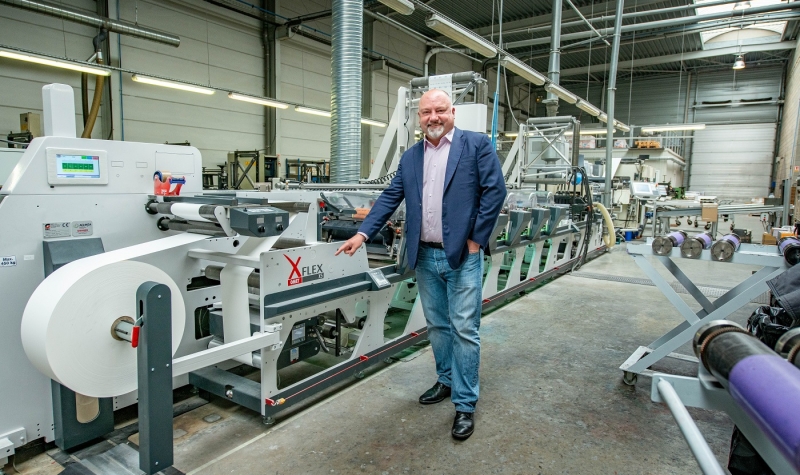 Cubit France Technologies, leaps forward to success with OMET Taylor Made Solutions!
Stories of excellence
Wednesday May 27th, 2020
One of Europe's leading manufacturer of tickets, Cubit France Technologies (CFT Group), chooses OMET as its technology partner to focus on tickets for different field and applications which it supplies to over 50 countries across the globe. In this interview, Stephane Carle, President of CFT Group reveals about the history and growth of the group which goes way back to 1989 and why they chose OMET XFLEX X5 amongst other available machines in the market. This installation is a perfect example of OMET's Expertise to adapt and build machines exactly as per customer's request following our customer focussed internal processes!
You offer different variety of tickets to your customers. Tell us a bit about the main products of the company.
Being one of the leading manufacturers of tickets, we do have a large variety of ticketing solutions for our customers. Our main products are parking, public transports and highway tickets. Our products are sold in over 100 cities in 50 countries all over the world, thanks to our investments in developing a strong know-how and technology experience in offset printing and encoding magnetic and RFID tickets. We also produce tickets for box office systems, museums, pools, leisure parks, ski lifts, access control, pay and display, receipt rolls etc. We offer a wide combination of tickets such as, with or without magnetic stripe, in cardboard, thermal paper, composite materials or polyester, available in various thicknesses.
From the view point of technology, which is the most critical process in manufacturing of these products?
Printing constitutes only 50% of the final product: magnetic stripes application, cutting, perforations, fanfold, encoding and good packaging cover up for the balance 50%. Production process for such products must be very precise, not only in printing but especially in converting processes also (perforation, longitudinal and lateral cutting). When the tickets are procured by car parking distributors or machines vendors, they must be extremely precise and functional to the final application. There is absolutely no margin for error
Does it involve some specific skills or technology licences?
Yes! The main constructors (Skidata, THALES, Designa etc..) request licences every year.
Tells us about your market position and your competitive advantage
Our biggest advantage is that we are a small well managed company. This allows us to be flexible, fast and gives us the ability to understand the market in a much closer way. We work in very close cooperation with our customers and suppliers.
How about your future investments and growth prospects?
The whole company is moving into a new building in August 2020 without stopping the production. The new factory is well placed from Dunkerque: quieter, ecological (photovoltaic and rain recycling) optical fiber zone. A new deal!
Does major part of your sales happen in domestic market or exports?
We have sales in more than 100 cities within 50 countries across the globe. 60% of sales happen in the French market and 40% is exports. We have our sales partners all over Europe and the world.
You recently invested in an OMET XFLEX X5, tell us about your selection criteria.
We manufacture very complex products which require a lot of precision and customised attachements. A machine with exceptionally high print accuracy and the ability of the machine supplier to customise the machine according to our needs were the 2 main criteria for selecting our partner. We compared and tested all major manufacturers over Europe and Asia. After doing a full study we made our choice for OMET, not only for the machine, but also for the OMET team. OMET was the only machine supplier, which was able to cater to our requirements of delivering a machine with high print accuracy and combine our specials tools with flexo production. OMET technical department worked together with our team to study the best solutions to our needs, designing new units and adapting their standards to make a perfect integration with our "external" equipments (perforator, fan folder, digital print head). The solution that they delivered was just PERFECT!
How did your collaboration with OMET start?
We have been collaborating with OMET since 2009, when the first OMET Flexy was installed. Now in 2020, OMET XFLEX X5 has increased our production by 400% and that too with better quality. Our expectations of increased productivity calculated 1 year ago, have come true with the new machine, and hence we are a very satisfied customer!
Amongst all the innovations and customization provided to you by OMET, which one do you appreciate the most?
OMET's advanced state of the art VISION System, allows us automatically register and control the printing and converting units, with minimal manual intervention. This in my opinion, is the key to reach the perfect result, something which we desired since the beginning. Thank you, OMET for bringing such innovations and technology to the market, which allows high quality printers like us to deliver perfect products to our customers!