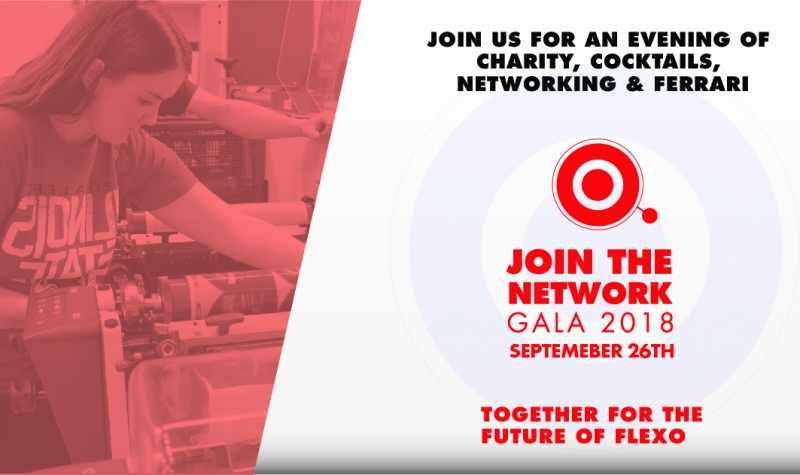 A great Network Gala for the Future of Flexo
Global Networking
Sunday July 29th, 2018
OMET, Durst and other 21 Network members of Flexo Industry promoted the "Join the Network Gala" for Wednesday, 26th September 2018 in Rosemont, IL, to be an evening of networking, recognition, charity, technology and… Ferrari.
Elk Grove Village, IL USA – The Future of Flexo initiative has grown into a full-blown Gala and fundraiser, with an opening ceremony scheduled to commence on Wednesday, September 26th at the close of the second day of Labelexpo Americas in Rosemont, IL. Guests will converge upon the Rosemont Theatre located on North River Road beginning at 5:30 PM CST to network, connect and recognize business community supporters for a night of giving.
Claudio Semenza, the Future of Flexo chair noted, "The 2018 Gala is not just a celebration of the successes of our giving community, but a celebration of the recipients of the donations that our community makes. These recipients include young people involved in the study of flexography. The campaign contributions that have been made and the proceeds from the evening's raffle items will all directly benefit the Future of Flexo."
The Gala, which includes a black-tie optional dinner, a raffle, live music and the opportunity to test drive a Ferrari, supports the work of the Future of Flexo Initiative, a philanthropic consortium that helps university students studying flexo and the steadfast and long-term commitment of consortium members to ensure the health of flexo.
This powerful event recognizes community supporters focused on innovation, lifetime-achievements and mentorship. Coinciding with the start of Labelexpo Americas 2018, the most important fair for the label and tag market, the Gala will highlight the urgent need for recruitment and proper training for the health and future of flexography. "Today, as we are seeing an aging in skills and knowledge base, it is paramount that we all work together to grow and mentor young people, create awareness for industrial jobs and develop a pipeline of qualified workforce members for the future," said Semenza.
The Join the Network Gala is an invitation-only exclusive platform where C-Suite executives,
business decision makers and thought leaders from around the world connect, discover and support the future health of flexo. Interested in attending? Please contact your local area network member to apply.in attending? Contact your local area network member to apply.
About the Network:
The Future of Flexo initiative is an intensive effort founded by OMET Americas, Inc. and a consortium of flexographic suppliers and printers – OMET, Durst, Tresu Americas, Apex International, Avery Dennison, BST North America, Erhardt+Leimer, FLEXcon, FLEXOconcepts, FLEXOgrafix, FlexoWash, grafiKontrol, ICP | Nicoat | MinusNine, K Laser, Liberty Capital Group, MacDermid Graphic Solutions, Martin Automatic, Nazdar Ink Technologies, Phoseon Technology, RotoMetrics, spgPrints, tesa tape, inc, & Vetaphone, Rossini Spa – to supports the flexographic printing and packaging industries' developing workforce with scholarships, educational programs, funding for student industry related travel and other initiatives designed to ensure the health of flexo.
About OMET Americas, Inc.:
OMET is a manufacturer of printing presses and tissue converting machines and is the US branch of the OMET Group, Italy. The target of OMET Americas Inc. is to provide customer service, technical support, and sales across all North and Central American countries. With more than 50 years of excellence in Service, Technology and Innovation, OMET is a world market leader in the development, production and marketing of narrow and mid-web printing presses for the inline production of labels, folding cartons and cardboard products. Besides its portfolio of printing presses, the Group also provides, narrow and wide-web tissue converters for the embossing, folding and printing for the towel and napkin industries. The OMET Group has employees in North and Central Americas, Italy and China. OMET is market leader in solutions for the tag, label and tissue industry.
Learn more at www.ometamericasinc.com
For more information or to request hi-res images, please contact:
OMET AMERICAS Inc.
1291, Brummel Ave.
Elk Grove Village – 60007 Illinois
United States
Contact:
Jessica George
Marketing & Communications
Tel.: +1 847 621 2369
Jessica.george@ometamericasinc.com