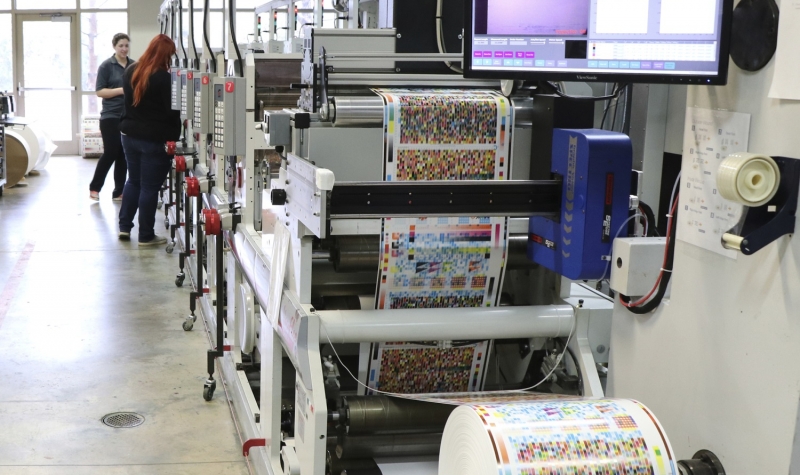 OMET's continued partnership with Clemson's Sonoco Institute serves students and industry well
Technology & Innovation
Wednesday December 5th, 2018
CLEMSON, SC – OMET Americas, Inc. and Clemson University's Sonoco Institute of Packaging Design and Graphics have partnered over the years in many ways to provide advanced printing capabilities to Clemson students and industry.
OMET's Varyflex 530 narrow-web press provides an opportunity for students and industry to experience hands-on learning in the basics of press operation, color management, process control and more. The press is placed in the Institute's Advanced Print Lab which also houses ink and platemaking capabilities.
The press is capable of a wide range of services. By utilizing the modular design, additional processes can be added in-line. Within the past year, rotary screen, gravure and lamination units have provided increased capabilities for Sonoco Institute clients. In addition, the press is capable of running water-based, solvent and UV inks, as well as conductive inks, thanks to an extended dryer.
"We are very proud of the flexibility this press offers in providing capabilities for print testing and evaluation," said Bobby Congdon, assistant director of the Institute. "We really can offer a wide-range of services due to the flexibility of the press to be outfitted with various unique pieces of equipment, as well as work with a variety of inks and substrates."
Over the past year, a variety of tests have been orchestrated in the print lab to help companies prepare their products for market. Additionally, plate and substrate verifications have been performed, and numerous trade show materials have been produced in the lab for partners to showcase at conferences like FTA Forum and Label Expo.
The Institute also conducts printed electronics work. Recent tests have involved battery and functional inks testing for conductivity and printability in commercial applications.
Besides print testing, another opportunity for industry to experience the press is through hands-on seminars and workshops hosted at the Institute. A wide range of training opportunities are offered to enhance skills in everything from design to print, utilizing the press in every single class.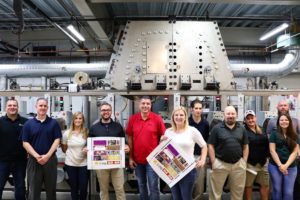 "These courses are a great opportunity for continued learning," commented Congdon. "Everyone from press operators to sales associates are invited out to learn hands-on in the print lab."
Other fully-equipped spaces are open at the Institute to practice package design, prototyping, eye-tracking research and more – but the print lab and OMET's press lies at the center of it all.
Aside from partnering through the print lab at Clemson, the Institute is also one of OMET's designated Future of Flexo schools, receiving additional support from OMET to ensure that students receive exposure to the technologies and skills employees are using in the flexographic field.
Institute representatives recently attended OMET's Join the Network charity event on September 26 in Chicago, IL during Label Expo. The gala promoted the Future of Flexo schools and provided an opportunity for industry collaborators to gather for a night of fun, food and charity.
"It was a great networking event for myself and the students," said Kariahlyn Lindsey, project coordinator of the Institute's print lab. "We enjoyed meeting OMET's in-network partners."
It was also recently confirmed that OMET will host an open house at the Institute in 2019 to offer those in the southeastern U.S. the chance to network with vendors, learn about new technologies and discover useful services that companies may not have thought to budget for. You can stay up-to-date on the progress of the open house by visiting SonocoInstitute.com.