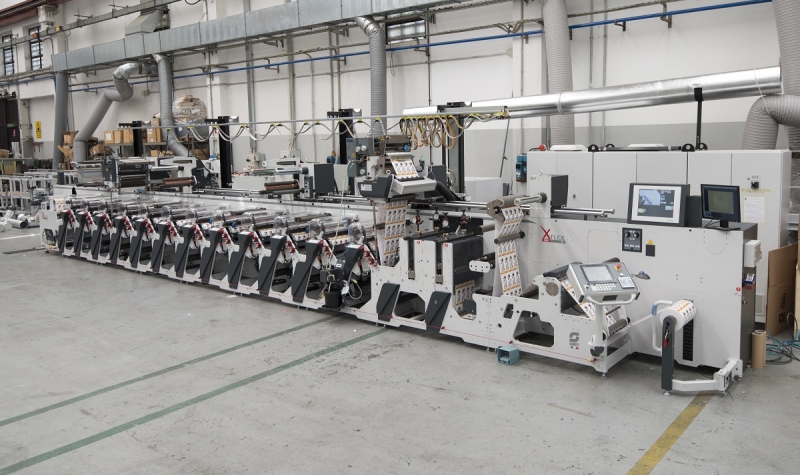 OMET X6: more than 2000 printing units manufactured
Stories of excellence
Wednesday October 3rd, 2018
Significant milestone for OMET XFlex X6: over the last weeks, production has passed the 2000 printing units mark for this line that is raising higher and higher international interest. OMET X6 is among narrow and mid web platforms most appreciated by the labels and packaging market, for its exceptional performances in terms of flexibility, quality, wide range of applications and customization possibilities.
OMET X6 has been a revolution for the market: it's the first press with short web path, using the chill drum as impression cylinder, thus obtaining a drastic reduction in waste, as never seen before on a narrow web press.
It has been also the first line equipped with Vision-1 fully automatic system for perfect adjustment of the register, with no need for operator's intervention, able to reduce set-up time and optimize productivity, reaching perfect register of 0.05 mm. It is also the first press featuring Servo Direct Drive technology and "Gearless" concept, which allows perfect stability even at high speed. This line has been the first offset+flexo press with automatic sleeve changeover and thanks to its flexibility it can be equipped with many exclusive unit such as the Monotwin Cut, the first variable rotary die cutting unit.
Because of its pioneering features, it has been the most imitated press ever. Versatile and able to produce from the simplest to the most complex and creative label on a wide range of substrates, the OMET X6 is the perfect synergy of different technologies: the modular units can be combined at will, with no limitations, allowing the implementation of different processes and special finishing applications in-line, to always get to the final product in one single passage.
"The OMET X6 is one of the flagships of OMET's excellence and innovation – says Paolo Grasso, Head of Sales for OMET Labels Business Unit -. This line, with its latest evolution X6.0 presented at Labelexpo 2017, represents a step towards digital workflow and independent process: it can meet any need thanks to the enhanced automation and a unique user-friendly approach.
Customers confirm important increases in efficiency and productivity, as well as the opportunity to improve their production potential and extend their product portfolio with top quality results. Definitely, it's a great return of investment".
Prepared for interconnection and able to display and control all production data and working conditions as well as all OMET presses, the X6.0 version can also count on new devices driven by the concept of Industry 4.0.