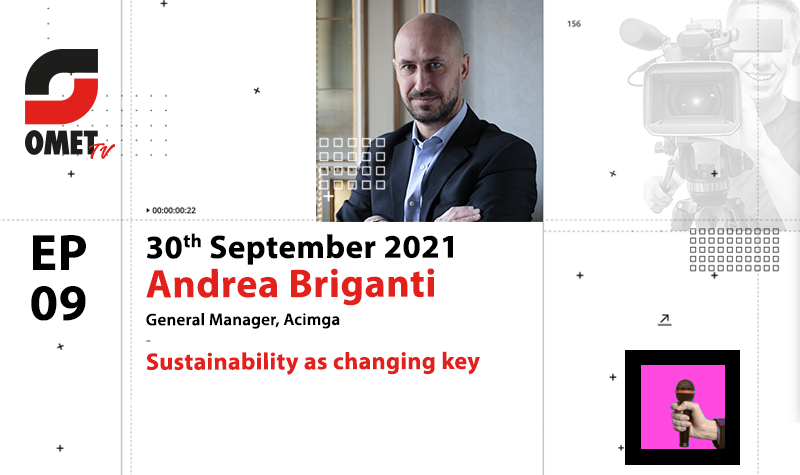 OMET TV presents Andrea Briganti, General Manager of Acimga
Technology & Innovation
Thursday September 23rd, 2021
The ninth episode of the OMET TV web series is dedicated to "Sustainability as a changing key" and will be visible starting from September 30th on OMET's social channels (Youtube, Linkedin and Facebook). The special guest is Andrea Briganti, General Manager of Acimga, the Association of Italian manufacturers of machinery for the graphic, paper and converting industry.
Acimga represents Italian manufacturers of machinery for the printing and converting industries: it deals with technology for packaging and label production, and the emergent applications able to guarantee returns on investment at a global level. It is a very prosperous sector, like almost all Italian mechanical engineering sector, and with a great inclination for export. In fact, Italian technology is internationally recognized as flexible, powered by various applications and very high commercial and technical skills.
Within Acimga, Andrea Briganti had the opportunity to develop a deep knowledge of this sector and to reflect on the transformation of economy and business models. His considerations are set out in the book "Anticipating change", edited in 2021 and dealing with the social, environmental and financial impacts of sustainability on B2B companies.
In the next episode of OMET TV, visible starting from 5 pm next September 30th, 2021, Andrea Briganti and Armando Garosci will have an all around discussion about the current economic scenario, speaking about sustainability, servitization, digitization and industry 4.0: all essential elements for a successful business strategy.
Each episode of OMET TV, broadcasted every 2 weeks, focuses on a specific theme. A special guest will comment current topics and trends in the sectors in which OMET is considered an international leader: tissue converting machines and printing machines for labels and packaging.
OMET TV is a web series of 20 episodes created by OMET. Each episode contains an interview of 15-20 minutes, and is broadcasted every two weeks starting from June, 10th 2021. All episodes remain available for free after the publication on the social channels of OMET (YouTube, LinkedIn and Facebook), as well as on the dedicated website (http://omet-tv.omet.com)
Watch all OMET TV episodes: http://omet-tv.omet.com