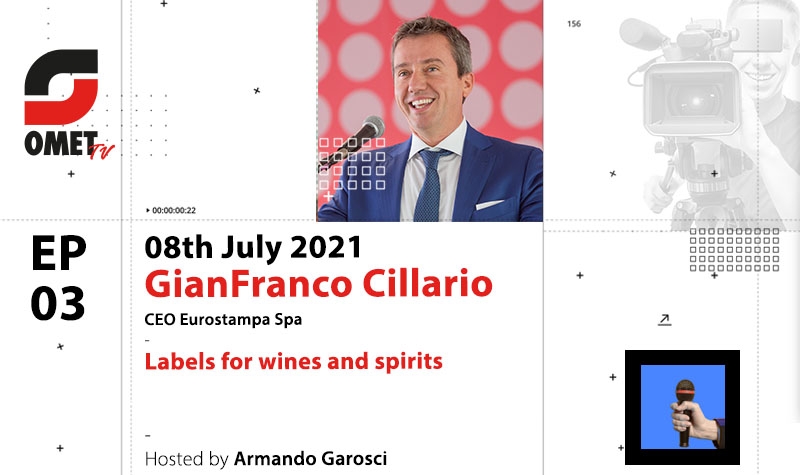 OMET TV: GianFranco Cillario (Eurostampa) guest of the third episode
Technology & Innovation
Thursday July 1st, 2021
The third episode of OMET TV web series will be broadcasted next July, 8th on OMET social channels (Youtube, LinkedIn and Facebook). Dedicated to wine & spirits label printing, the interview will feature GianFranco Cillario, CEO of Eurostampa Spa.
Eurostampa is an international company mainly focused on the wine and spirits sector, with a good market share also in the chocolate and beverage industries. It has 6 production sites: the main, hosting about 450 employees, is located in Bene Vagienna (Cuneo, Italy) where the company was born and has grown. Other offices are located in Europe and the United States, following the main wine and spirits markets; in Glasgow to follow the Scottish whiskey market and in Touverac (France) following the cognac and champagne one. Over the last 10 years, 3 locations have been settled in America: one in Cincinnati, near Kentucky, to follow the Bourbon market, one in California, Napa Valley, to follow the wine sector, and one in Mexico in Guadalajara to for the Tequila production.
The third episode of OMET TV will feature GianFranco Cillario, CEO of Eurostampa, talking about labels for wines and spirits in the interview led by the journalist Armando Garosci. This episode, the third of the web series, will be online for the premiére at 5 pm on July 8, 2021.
Each episode of OMET TV, broadcasted every 2 weeks, focuses on a specific theme. A special guest will comment current topics and trends in the sectors in which OMET is considered an international leader: tissue converting machines and printing machines for labels and packaging.
OMET TV is a web series of 20 episodes created by OMET. Each episode contains an interview of 15-20 minutes, and is broadcasted every two weeks starting from June, 10th 2021. All episodes remain available for free after the publication on the social channels of OMET (YouTube, LinkedIn and Facebook), as well as on the dedicated website (http://omet-tv.omet.com).