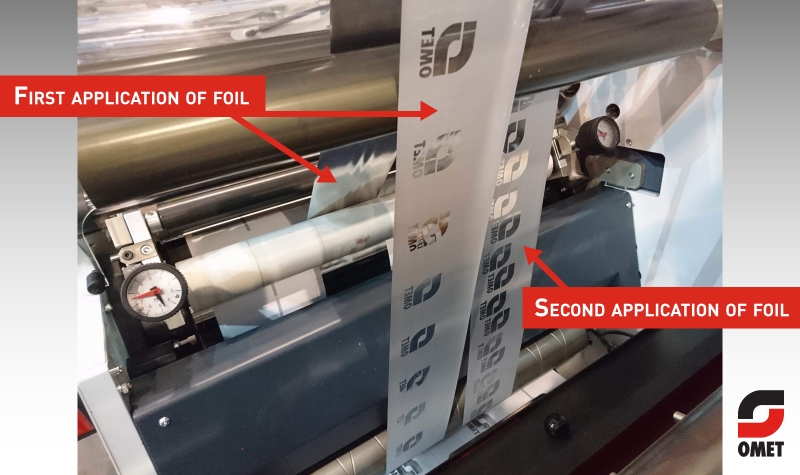 Increase profitability with the new OMET Cold Foil Saver
Technology & Innovation
Monday October 26th, 2020
With a laser focus mission to increase profitability for printers, OMET Research team, has taken numerous amount of challenges in the areas of waste reduction, time and energy savings. It is such deep focus that has led OMET Research to come up with the new innovative Cold Foil Saver which allows printers to use the same foil "twice" for the same print, enabling them to increase cold foil savings by up to 50% and increase profitability.
Launched at the 2019 LabelExpo Brussels, the new revolutionary OMET Cold Foil Saver is a cost-effective solution which is made available in all OMET flexo printing machines starting from iFLEX up to X6. The same solution is also available as a new attachment which can be ordered and installed by all existing OMET customers. This new OMET Cold Foil Saver allows printers to use the same foil "twice" for the same print, with no compromise on the printing speed and delivers the same high quality cold foil transfer. Once again OMET has delivered a no compromise, cost effective solution, keeping its high-quality standards maintained.
Up to 50% raw materials savings can be achieved with the new cold foil saver, thanks to a special paper path specifically designed to perform a double pass of the cold foil in perfect register. "The reduction of waste and the resulting cost savings, guarantee greater productivity and increased profitability for customers. OMET Customers will now be able to achieve the same quality by limiting raw material consumption by up to 50% and hence also produce less waste when compared to existing solutions" said Marco Calcagni, Sales Director of OMET
This development also displays OMET's continued commitment to sustainability, which has been one of the main guidelines of OMET RESEARCH, aimed at ensuring greater productivity and profitability to customers by either creating energy saving or waste reducing solutions. OMET's R&D department is continuously working with leading industry partners in the areas of eco-sustainable materials and technologies, recycling, waste reduction, water-based inks and energy saving with UV-Led drying to ensure that the future of packaging is both sustainable and profitable.