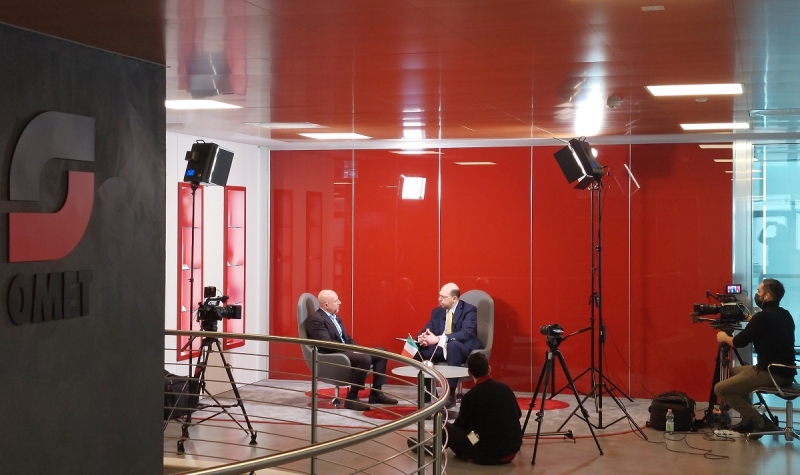 The competitive advantage of OMET: investments, history and people
Technology & Innovation
Thursday March 17th, 2022
OMET: a history of innovation and excellence, built on investments with a long-term perspective, listening to the market and people's experience. Antonio Bartesaghi, CEO of the OMET group, talks about OMET in the exclusive interview by Armando Garosci, shot in the new OMET Headquarters in Molteno (LC). The 20th episode was broadcasted last Thursday March, 10th on OMET social channels, as the end of the first series of OMET TV.
The new OMET Headquaters inaugurated in 2021 were the inspiration for the beginning of the interview. "The growth of our business over the last years forced us to redesign spaces – says Bartesaghi -. We had production dislocated in different plants and this caused too many inefficiencies. Five years ago we decided to invest in a new plant, with about 23 thousands square meters covered and computerized, that now allow us to control processes and constantly monitor orders".
The new headquarters are not justfied only by efficiency reasons. OMET will soon inaugurate the Innovation Park. "It's a high-level showroom for printing machines for labels and packaging – explains Bartesaghi -. Our customers want to see with their own eyes, test their subjects and see the print quality of the machine. This space will also host our and our customers' technicians for training, as well as test and produce new items".
Bartesaghi speaks also about the history of the company, born as a "garage company" in the 1960s by his father Angelo, to explain how the family imprint has been a competitive advantage. "In a family business, an entrepreneur never works with short horizons, he always invests with a long term vision. We have always done this, even in hard times like the last two years. Today OMET has three divisions and a turnover of 100 millions Euros with about 350 employees, and we have a company that deals with cosmetics with a turnover of about 35 millions Euros. Time has proved us right".
Speaking about OMET's excellence, Bartesaghi focused on human capital as a critical factor for competitive advantage. "In a company like ours, people are the heart of the organization and the relationship with stakeholders is a guarantee of continuity. Employees, suppliers and customers are the ground of the company. The growth and innovation that allow us to stand out on the market stem from their technical skills but above all from their flexibility and open-mindedness. Flexibility is critical also in customer relations, because today we have to offer solutions, not only products".
"Antonio Bartesaghi told us a story of innovation, especially culture of innovation – Garosci, director of Largo Consumo who interviewed all OMET TV's guests, says -. This episode concludes the first series of OMET TV, which hosted leaders, managers, entrepreneurs, each one presenting a different look to the market. A roundup of stories of excellence that we invite you to listen to and watch again".
All the episodes of the web series created by OMET can be viewed on the dedicated website (http://omet-tv.omet.com).
Watch the interview with Antonio Bartesaghi – OMET TV, Episode 20 of 10 March 2022 https://www.youtube.com/watch?v=91gm63BfANo