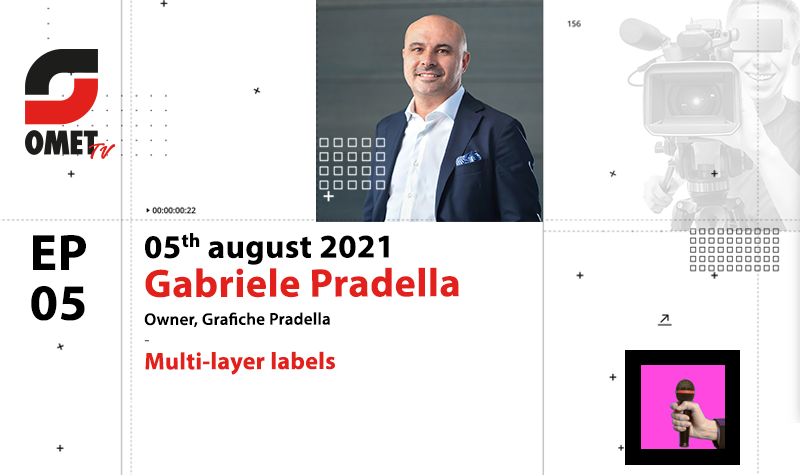 Gabriele Pradella guest of OMET TV's 5th episode
Technology & Innovation
Thursday July 29th, 2021
The next episode of OMET TV will deal with multilayer labels and will host Gabriele Pradella, owner of Grafiche Pradella. The fifth episode of the web series will be visible from August, 5th on OMET's social channels (Youtube, LinkedIn and Facebook).
Multi-layer labels are a multi-page browsable media, useful for various purposes such as multilingual information, advertising campaigns, coupons and promotions. This innovative label format answers to the increasing need to provide information to consumers, also complying with new regulations, especially for the food, cosmetic and cleaning sectors.
This topic will be on the table of the next episode of OMET TV, featuring Gabriele Pradella, owner of Grafiche Pradella, a family business founded in Bormio in 1918 and become today a big company operating in Northern Italy with two factories (Mazzo di Valtellina SO, Cinisello Balsamo MI). It's the third generation leading the company, which gained a consolidated leadership on the market by focusing on innovation, quality, speed and flexibility.
The 5th Episode of OMET TV, the web series conducted by Armando Garosci, will be available starting from 5th August 2021 at 5 pm.
OMET TV is a web series of 20 episodes created by OMET. Each episode contains an interview of 15-20 minutes, and is broadcasted every two weeks starting from June, 10th 2021. All episodes remain available for free after the publication on the social channels of OMET (YouTube, LinkedIn and Facebook), as well as on the dedicated website http://omet-tv.omet.com.
Each episode of OMET TV focuses on a specific theme, with a special guest who comments current topics and trends in the sectors in which OMET is considered an international leader: tissue converting machines and printing machines for labels and packaging.
Watch all OMET TV episodes: http://omet-tv.omet.com