Digitization and Industrial IOT at the OMET Innovation Park
Technology & Innovation
Friday March 24th, 2023
Industrial IOT creates huge innovation opportunities for machine builders, but at the same time involve profound and complex transformations in their business models and also in customer approach. Leading companies such as MFL Group, FIMI Group and OMET shared experiences, goals and difficulties of their digital transformation path at the "Machine Builder X" event held on March 16th at the OMET Innovation Park.
Virtual and augmented reality, artificial intelligence, MaaS (Machineas-a-Service) paradigms and all the new digital and exponential technologies are revolutionizing production process and customer service of industrial companies. At the Innovation Park, OMET, MFL and FIMI presented the IoT systems introduced on their machines with live demos, and shared their vision on this undoubtedly hot topic of industrial innovation.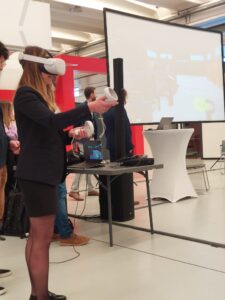 "Machine builders should focus more in understanding the customer's operational needs and in offering a top-quality user experience – says Andrea Calcagni, OMET Servitization Manager -. To meet their needs, machine builders have to fully exploit the new digital technologies, but they often have difficulties in their implementation and don't manage to keep up with an exponentially growing innovation. Collaboration with other companies, adoption of open innovation models and continuous training are the essential elements of this digital transformation process. We are happy that this event organized by 40 Factory and OMET has conveyed opportunities and challenges to other companies that want to tackle this path".
More than one hundred people took part in the event that saw the participation of the Metalworking Category and the Young Entrepreneurs Group of Confindustria Lecco and Sondrio. Pierluigi Petrali, general manager of DIH Lombardy, moderated the round table and presented the results of the most recent surveys on digital transformation of local companies, that for the most part are moving the first steps.
The high turnout confirms the OMET Innovation Park as a crossroad for innovation: "We have invested in this space not only to show our technology but above all to create innovation – said Antonio Bartesaghi, OMET CEO -. Innovation comes from sharing, from understanding questions not yet asked and proposing new solutions. Today all machine builders must go beyond their own products and begin to conceive machines as a set of services that allow the customer more efficiency, profit and growth".
This was the first event of the series "Machine Builder X" that 40Factory is organizing with the aim of sharing experiences of business model innovation driven by digitalization in manifacturing sector.