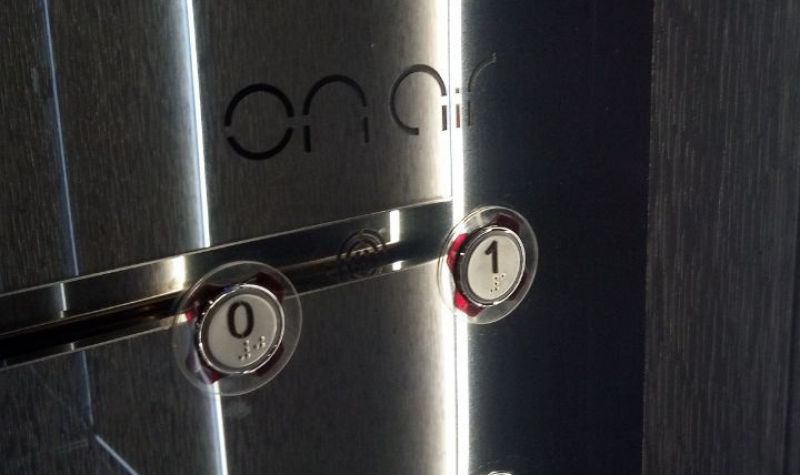 Daphne, Ribes Tech's touchless solution for lifts lands at the SuperSalone week in Milan
Technology & Innovation
Friday October 1st, 2021
Last edition of Milan Design Week saw Ribes Tech's "Daphne PV" technology showed among the innovations for lifts safety. Daphne PV is a film to be applied on lift's buttons, to make them "touchless". This way users can make calls without touching the panel and reducing the risk of contagion.
Daphne was brought to the SuperSalone by Studio Marco Piva within "ON AIR": aproject dedicated to a new generation of lifts, that become elements of Interior Design and, at the same time, of a safe environment even in emergency, thanks to a cutting edge technology and a perfect sanitization of the cabin.
The ON AIR project was born from the meeting between Studio Marco Piva, an Italian atelier addressing through methodological precision all project scales, from masterplanning to architecture, from interior to industrial design, and IGV Group, a historic Italian company of the lift sector, with the reputation of international leader for its made-in-Italy quality, style, design, innovation and for the "tailored" approach to customers.
ON AIR is not only design, but also technology at the service of safety. It is a modular system where technology support architecture in an almost imperceptible way, to ensure the highest level of functionality and environmental protection.
Among the technologies selected by IGV Group to ensure the maximum protection against the transmission of pathogens, there is Daphne PV: an Italian technology recently patented by Ribestech. Daphne is an innovative photosensitive film, electronically printed, able to recognize the shadow of the hand near the lift button: this way it allows calls without physical contact.
"Our goal – underlines Franco Gianni, IGV Group Project Manager – was to give a double activation to traditional buttons, with and without contact. The touchless control has been obtained by means of a retrofit kit: it's a great advantage considering the possibility of applying it also to existing panels. The hoped-for result was achieved thanks to the teamwork between the IGV Group and Ribes Tech technicians, supported by various laboratory tests".
The Daphne PV film can be adapted to buttons of various shapes and does not require replacement, always allowing a conventional use in case of need. The "ON AIR" project is one of the first installations of the Daphne PV technology, which is raising growing interest in the market.
This solution can be applied to any mechanical button even outside the world of elevators (bus, metro, etc.) and would be suitable for other applications instead of infrared technology (such as automatic taps, toilets, towel dispensers) with important cost savings and a big aesthetical appeal.
Ribes Tech is a start-up born in March 2016 from the collaboration between OMET and the Italian Institute of Technology in Milan. The goal is the development of plastic photovoltaic modules to be used as an energy source in home automation, smart cities and the Internet of Things.
For more information on Daphne PV technology and to deepen the possible integrations with any product, please contact Antonio Iacchetti, CEO of Ribes Tech directly at the email iacchetti@ribestech.it.