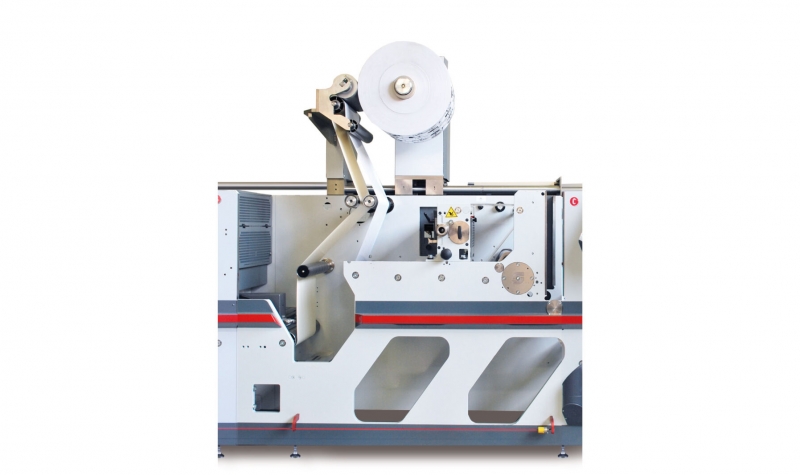 Complex die-cutting? No big deal with OMET's Rock'n'Roll matrix rewinder
Technology & Innovation
Monday December 2nd, 2013
The matrix stripping and rewinder unit launched by OMET in 2011, and fully operational on the machines for labels from XFlex X6 and XFlex X4, offers many advantages to printers among which the increase of the machine speed, the reduction of waste and the extreme accuracy of execution.
Unlike traditional solutions with fixed rewinding turret, the Rock'n'Roll calculates the movement of the rewinder in the horizontal axis of the machine rails to follow the increase of volume of the waste coil. By doing so, the point of detachment of the material stays fixed. Different from similar equipment offered by competitors, OMET' solution is characterized by simpler mechanics with less chance of wear and without special devices placed on the horizontal axis of motion of the rewinder.
Here is a list of the main advantages of the system: a substantial increase of the speed of stripping and prevention of rupture of the waste and consequent machine downtime; waste coiling in a compact and regular way for a better performance on long runs; possibility of maintaining a high-speed machine even in the presence of complex die-cutting shapes or with very thin matrix edges; presence of a servo motor to maintain the tension constant (which can be recalled as recipe in function of the print substrate or label shape) even in presence of a variation of the diameter of the matrix coil; opportunity to modify the web path to allow a different angle of detachment of the waste.
On the operational side, Rock'n'Roll facilitates the printer in the management of the machine because it works automatically and autonomously without constant control during the work. The operator, in fact, does not intervene to modify the parameters of rewinding, and does not adjust the potentiometer or the clutch to adjust the tension of the material in relation to the increase of the diameter of the matrix coil. The main control panel of the machine allows the visualization of all the parameters of Rock'n'Roll, which can be also retrieved from recipe in case of repeated work.
Rock'n'Roll has been designed to make the press increasingly more automated and simplify its set-up, as well as to prevent costly downtime during production. The machine operator must be less specialized to use the system and margins of error, both human and machine, are minimized.